George Conway Trolls Donald Trump's Declining Job Approval Numbers: 'Try to Impeach This'
White House aide Kellyanne Conway's husband George Conway trolled President Donald Trump's falling job approval rating on Tuesday by serving Trump's own words on impeachment back at him.
George Conway, a conservative lawyer and regular Trump critic, quote tweeted a post about Trump's approval rating dropping to the lowest yet in CNBC polling and commented, "Try to impeach this." They were the exact words over an image Trump tweeted earlier of the United States with far more red than blue areas.
The latest CNBC All-America Economic Survey found that Trump's ratings fell six net points to 37 percent approval and 53 percent disapproval for September, from 40 percent approval and 40 percent disapproval in May. As journalist Josh Jordan tweeted and George Conway highlighted, this is "the lowest approval of his presidency in CNBC polling."
Trump's job approval rating was 40 percent in March 2019 and 41 percent in December, October and June 2018. The president had 39 percent approval in March 2018, 38 percent approval in September 2017, 37 percent approval in June 2017 and 39 percent approval in April 2017. His highest job approval by CNBC polling was 42 percent in December 2017.
The latest CNBC poll, conducted last week using a sample of 800 Americans across the country, found significant declines in Trump's overall job and economic approval ratings, and that fewer Americans oppose impeaching the president. The poll also found that 44 percent of American voters are in favor of beginning impeachment proceedings against Trump while 47 percent are against doing so, bad news for Trump since CNBC's last poll on the matter in December 2017 showed that 41 percent of respondents favored starting impeachment proceedings and 54 percent opposed it.
Among voters in the latest poll, 76 percent of Democrats supported impeaching Trump while 88 percent of Republicans opposed, and 42 percent of independents favored impeachment proceedings while 43 percent opposed.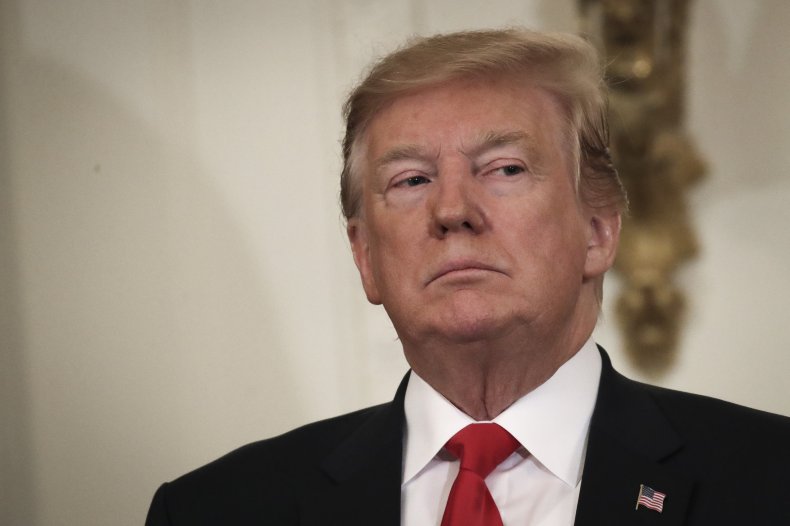 The latest poll showed that approval of Trump's handling of the economy dipped 13 net points to 42 percent approval and 50 percent disapproval, "marking only the second time Trump has been underwater on the economy," Jordan noted.
"Impeachment is taking up the headlines," Jordan tweeted, "But voters losing confidence in the economy is a big deal for 2020."
House Speaker Nancy Pelosi announced an impeachment inquiry into the president's conduct last week after a whistleblower complaint accused Trump of asking Ukraine's president to investigate 2020 Democratic front runner Joe Biden.
George Conway retweeted various posts about the CNBC poll and others, contradicting Trump's "Try to impeach this" infographic.