George Conway Calls Trump's Move to Host G-7 Summit at Doral Resort 'An Impeachable Offense'
As Donald Trump says the 2020 G7 Summit with the world's top leaders will take place at his Trump National Doral Miami Golf Resort in South Florida, the husband of one of the president's top advisers accused him choosing the site for personal profit, a move that is an "abuse of power and an impeachable offense."
"Using the presidency to advertise your business's products and for personal profit is an abuse of power and an impeachable offense," George Conway wrote on Twitter Tuesday morning.
Conway is married to Kellyanne Conway, a White House counselor to Trump, and is no stranger to criticizing the president. He often accuses Trump of being too mentally ill and unstable to serve as president because he's a "malignant narcissist" — strong words that directly rebuke Kellyanne, who's a staunch defender. The frequent public attacks by Conway, a conservative lawyer, against his wife's boss has allowed him to rise to national prominence.
It's been reported that Joe Walsh, the former Illinois Tea Party congressman who's challenging Trump in the Republican presidential primary, is attempting to recruit Conway for his campaign.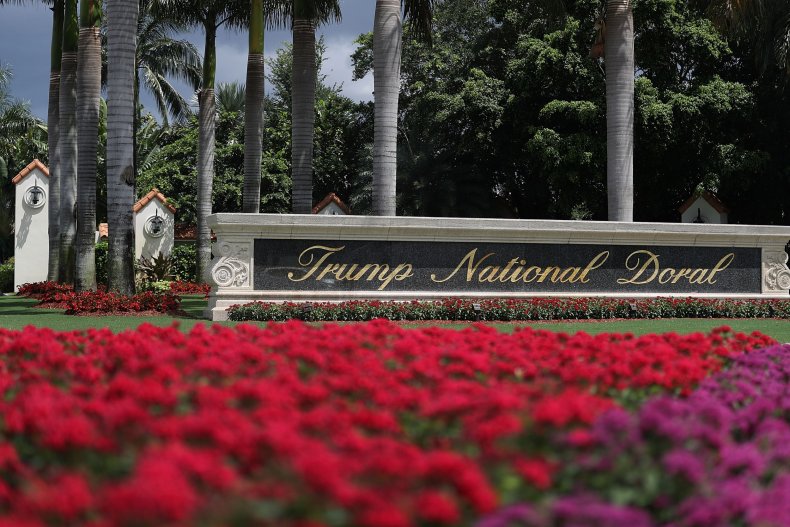 Critics have long accused Trump of illegally profiting from the office of the presidency and violating the Emoluments Clause of the constitution, which bars a president from accepting "any present, Emolument, Office, or Title, of any kind whatever, from any King, Prince, or foreign State" without the consent of Congress. A lawsuit alleging Trump has violated the constitution under this provision that was brought forward by hundreds of congressional Democrats continues to play out in the courts.
Trump denied that he would profit from hosting next year's G7 Summit. Asked by reporters this week in a joint press conference with French President Emmanuel Macron at the G7 Summit in France whether he was concerned about ethics or boosting his own brand, Trump responded: "No. Not at all."
He went on to boast of his golf club's amenities, such as its close proximity to an airport and its luxurious villas, ballrooms and restaurants, and deny he would profit in any way, even suggesting he's lost billions of dollars from being president.
"We have a series of magnificent buildings; we call them bungalows. They each hold from 50 to 70 very luxurious rooms with magnificent views. We have incredible conference rooms, incredible restaurants. It's like — it's like such a natural — we wouldn't even have to do the work that they did here," Trump elaborated. "I'm not going to make any money. I don't want to make money. Don't care about making money. If I wanted to make money, I wouldn't worry about $3 billion to $5 billion. Because that's what — I mean, at some point, I'm going to detail that and will show."
Trump has made the claim of losing billions of dollars in revenue several times throughout his presidency. However, there is no evidence to support the figures. His financial disclosure form from last year showed his various Trump Organization properties earned more than $100 million.