George Conway Mocks Trump's July 4 History Gaffes with Doctored Continental Army Twitter Cover Photo
Lawyer George Conway seemed to mock President Donald Trump's American history gaffes during the president's July 4 speech with a new Twitter cover photo similarly mixing two completely different time frames of warfare.
The husband of Counselor to the President Kellyanne Conway, as of at least Monday, had as his cover photo an illustration of what appeared to be the Continental Army fighting with five shark-mouth-design World War II military aircraft flying overhead. George Conway did not immediately respond to a request for comment from Newsweek on Tuesday, but his new cover photo fell in line with his criticism of Trump butchering parts of U.S. history on Independence Day.
Trump in his speech said that the Continental Army "manned the air, it rammed the ramparts, it took over the airports, it did everything it had to do" while battling the British in 1781, when in fact that scenario was 122 years before the Wright Brothers achieved the first flight. The president also incorrectly suggested that the Continental Army was named after the country's first President George Washington and that the army claimed victory in the battle of Fort McHenry, which occurred more than three decades later.
After Trump's blunders, Continental Army, #TrumpPardeFail and #RevolutionaryWarAirportStories began trending, with Twitter users making claims about U.S. history that were not true to mock the president. George Conway appeared to do the same with his cover image of the Continental Army, which existed from 1775-1783, with added aircraft common in World War II, which started in 1939.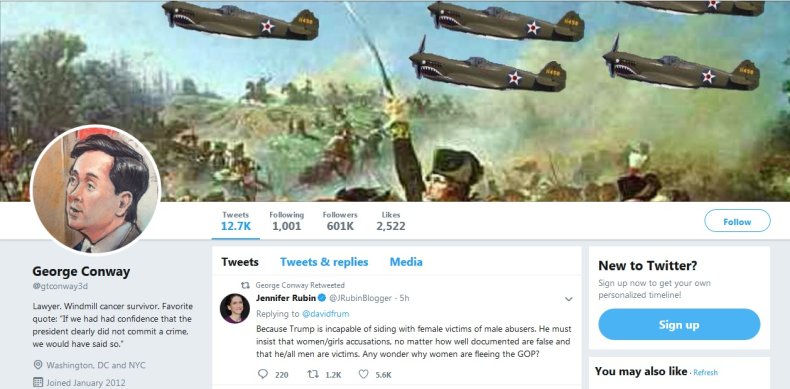 On July 5, George Conway tweeted, "Twenty-five or fifty years from now, Trump's gaffe about revolutionary-war airports may end up being the only memorable line he ever uttered in a speech. Either that, or his bit about windmills causing cancer." The lawyer recently mocked Trump's false statement that windmills cause cancer by adding "Windmill cancer survivor" to his Twitter profile description.
The following day, George Conway shared a post on Trump blaming his gaffes on the rain knocking out the teleprompter and claiming he "knew the speech very well," by tweeting a "Fort 'McHendry,'" another error by the president.
Regarding Trump's defense that the teleprompter went out "right in the middle of that sentence" when he stated that the Continental Army took over airports, George Conway tweeted, "Don't worry Tim Apple can fix," referencing the time Trump got Apple CEO Tim Cook's name wrong.
The last screenshot of George Conway's Twitter profile before Monday is of July 1 and shows his cover photo was of Trump's remarks that Los Angeles and San Francisco were "sad to look at" because they are run by "liberal" people.
George Conway previously had a cover photo of the moon protruding from Mars, mocking Trump's tweet stating that NASA should not go to the moon and instead focus on "Mars (of which the Moon is a part)."
The lawyer commented to Newsweek at the time, "As we say in the law, res ipsa loquitur," which is Latin for "the thing speaks for itself."
George Conway Mocks Trump's July 4 History Gaffes with Doctored Continental Army Twitter Cover Photo | Politics