George Conway Says Trump's Impeachment and 'Thousands of Documented Lies' Will Be His Legacy
Lawyer George Conway weighed in on a video of Kurds throwing rocks and tomatoes at American troops leaving Syria by saying that and a "thousands of documented lies" would be President Donald Trump's legacy, along with other issues that have plagued his presidency.
Conway, whose wife is Trump's counselor Kellyanne Conway, shared a tweet by journalist Jenan Moussa of a video of Kurds throwing objects at American tanks with soldiers driving away from them.
"When American troops first arrived in North Syria, Kurds received them as heroes with flowers and ululation," Moussa wrote. "Now terrified Kurds in Syria are throwing tomatoes and stones at departing American forces."
He added: "@realDonaldTrump 's legacy will be this, the Stormy Daniels payoff, impeachment, his psychologic issues, and his thousands of documented lies."
Trump has faced criticism for withdrawing the U.S. from northeastern Syria before a planned invasion by Turkey, leaving the Kurds to fend for themselves. The Kurds allied with the U.S. and helped fight ISIS. The Kurds felt betrayed by the U.S.
The conservative lawyer who claimed Trump has "thousands of documented lies," pointed some of them out in his piece "Unfit for Office" published by The Atlantic earlier this month.
"The president isn't simply volatile and erratic, however—he's also incapable of consistently telling the truth. Those who work closely with him, and who aren't in denial, must deal with Trump's lying about serious matters virtually every day," Conway wrote.
Conway quoted Trump's former communications director Anthony Scaramucci as saying, "We ... know he's telling lies," so "if you want me to say he's a liar, I'm happy to say he's a liar."
"Trump simply can't dial down the lying, or turn it off—even, his own attorneys suggest, when false statements may be punished as crimes," Conway wrote.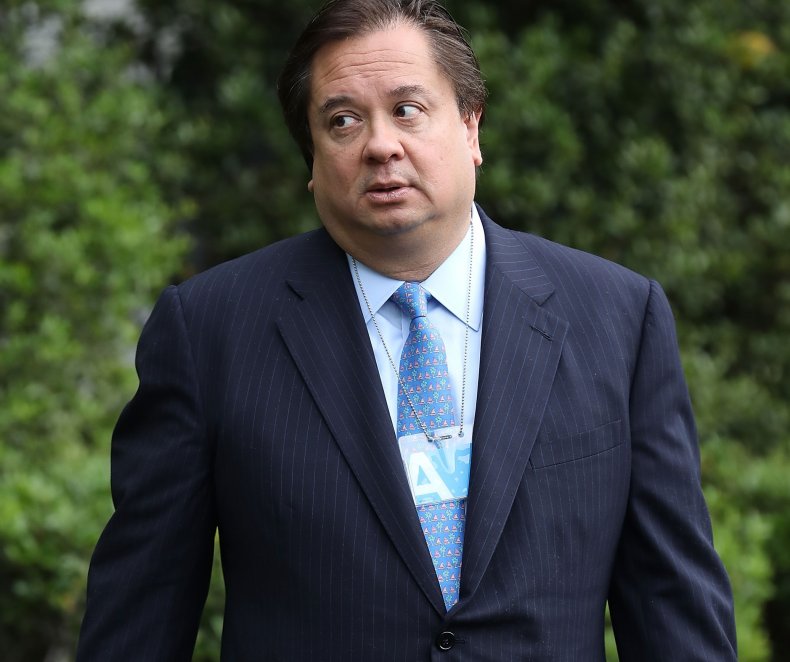 According to Conway, Trump's legacy will also be the Stormy Daniels scandal, after reports that the president's then-personal lawyer Michael Cohen arranged a payment to adult film star Daniels leading up to the 2016 election in exchange for her silence on an affair she allegedly had with Trump.
"Given what federal prosecutors in New York said about his role in directing hush money to be paid to the porn star Stormy Daniels, a strong case can be made that Trump has committed multiple acts of obstruction of justice and criminal violations of campaign-finance laws," Conway said in his piece.
Trump's Ukraine scandal, in which the president has acknowledged telling the Ukrainian president to investigate 2020 Democratic front runner Joe Biden for corruption, led House Democrats to launch a formal impeachment inquiry. Conway has linked impeachment to what he alleges are personality disorders and narcissism that make Trump unfit to carry out his duties as president.
"Any serious impeachment proceedings should consider not only the evidence and the substance of all impeachable offenses, but also the psychological factors that may be relevant to the motivations underlying those offenses. Congress should make extensive use of experts—psychologists and psychiatrists," Conway wrote. "Is Trump so narcissistic that he can't help but use his office for his own personal ends?"