George Conway Blasts Trump After Video Surfaces of World Leaders Appearing to Mock President: 'Laughingstock of the Planet'
George Conway, husband of White House counselor Kellyanne Conway, continued his near-daily criticism of President Donald Trump on Tuesday, calling the president a "deranged buffoon."
George retweeted a video of several world leaders seemingly mocking Trump at a reception during the NATO summit for consistently being late and engaging in behavior that flummoxes his team. He pointed to it as evidence that the American president is the "laughingstock of the planet."
"The world thinks you are an incompetent, ignorant, dumb, deranged buffoon—and they are right. And you prove it to them every day," George wrote on Twitter.
On Tuesday, the Canadian Broadcasting Co. shared the video of a conversation among Canadian Prime Minister Justin Trudeau, British Prime Minister Boris Johnson and French President Emmanuel Macron. Microphones picked up only fragments of what was said but caught Trudeau saying that "he"—an apparent reference to Trump—was late because he takes a "40-minute press conference off the top every time."
Earlier that day, Trump spoke to reporters numerous times, having press conferences with Trudeau, Macron and NATO Secretary-General Jens Stoltenberg. Trump was scheduled to have another press conference on Wednesday but canceled it, tweeting that he would return to Washington, D.C., after his scheduled meetings.
"We won't be doing a press conference at the close of NATO because we did so many over the past two days," Trump tweeted.
Newsweek reached out to the White House but did not receive a response before publication.
The short clip also showed Trudeau telling the others in the conversation that he watched "his team's jaws just drop the floor," although the video left unclear which incident—or who—the prime minister was referencing.
On Wednesday, Trudeau confirmed that Trump was the subject of a conversation during a press conference and said the jaw-dropping moment was when the president announced the 2020 G7 summit would be held at Camp David.
"We were all surprised and I think pleased to learn that the next G7 would be at Camp David," Trudeau said, adding that the two countries have an "extremely strong" relationship.
After the video was made public, Trump criticized Trudeau for being "two-faced" and speculated that the prime minister was acting out because Trump criticized him for not making the proper contribution to NATO.
"It's Canada—they have money and they should be paying 2 percent...so I can imagine he's not that happy, but that's the way it is," Trump told reporters when asked about the video.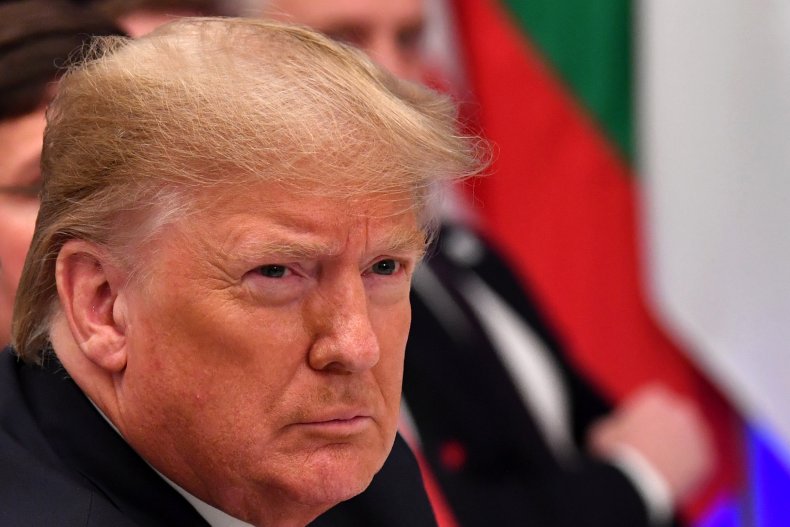 Only seven of NATO's 29 members have reached the alliance's defense spending target of 2 percent of their gross domestic product, according to NPR. Canada, a member, spends about 1.4 percent of its GDP, a figure that Trudeau told Trump represented an increase in defense spending over the years.
The U.S. is the largest financial contributor to NATO, and Trump called for other countries to step up to the plate, a comment he reiterated during his press conference with Stoltenberg. He told reporters that NATO serves a "great purpose" but that it's been "unfair" to the U.S. in terms of the contribution discrepancies.
"It's not right to be taken advantage of on NATO and also, then, to be taken advantage of on trade," Trump said. "So we're talking to the European Union...about trade. And they have to shape up. Otherwise, things are going to get very tough."
This article has been updated to include Trudeau's comments during Wednesday's press conference.