George Conway Says He and Kellyanne Owned Trump World Tower Apartment, Rejects Emolument Clause Charge Against President
Lawyer George Conway, a persistent Donald Trump critic and husband of Counselor to the President Kellyanne Conway, on Thursday admitted that he and presumably his wife owned an apartment in Trump World Tower after a report suggested that Trump used the property to violate the Constitution's emoluments clause.
George Conway shared a story by Reuters alleging, based on documents and sources, that the State Department let at least seven foreign governments lease Trump World Tower luxury condos in 2017 without congressional approval, which could violate the emoluments clause prohibiting American officials from taking payments or gifts from foreign governments not OK'd by Congress.
"Obviously I carry no brief for our Sleazebag-in-Chief," George Conway tweeted, referring to Trump, "But we used to own an apartment in this building, which is across First Avenue from the U.N."
The lawyer continued that "this article seems to suggest that if we still owned that apartment, and privately negotiated a lease with the French mission, ... our common charges would become a foreign emolument. If that's true, why wouldn't the same argument apply to the common charges paid by a translator who owned a unit in the building, got a job at the Belgian mission, and then used her salary to pay her common charges?"
"The theory proves too much," George Conway concluded. "Trump is bad, but his badness shouldn't be used to justify bad legal arguments—on either side."
George Conway has been married to Kellyanne Conway since 2001. Their relationship has been put under a spotlight since George Conway regularly attacks Trump on Twitter, while his wife defends Trump with equal fervor and remains one of the longest serving, high-rank officials in the White House. George Conway's reference to the emoluments charge as "bad legal arguments" was, for him, an unusual defense of Trump.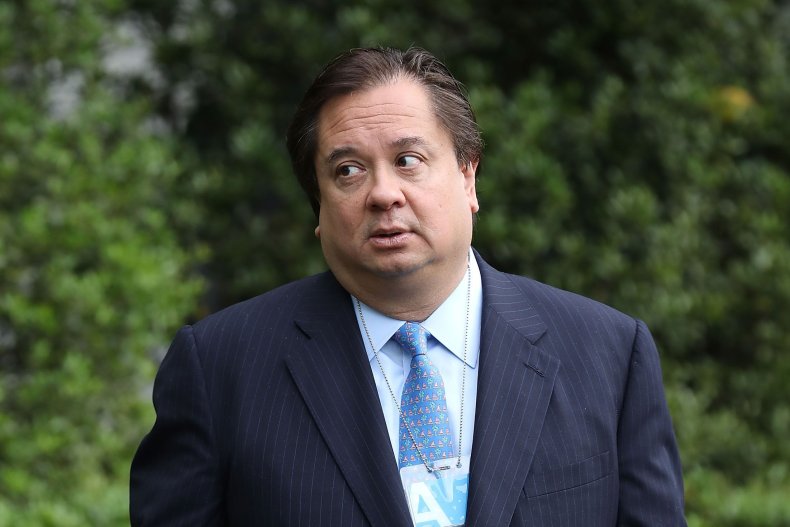 Reuters reported that the governments of Iraq, Kuwait, Malaysia, Saudi Arabia, Slovakia, Thailand and the European Union were approved to lease eight units combined at Trump World Tower, which is not the same as Trump Tower on Fifth Avenue where the president has a home. Reuters did not receive comments from the State Department, White House, or Trump Organization, and the Justice Department declined to comment. The government entities did not immediately respond to requests for comment from Newsweek on Thursday.
Trump's attorneys have previously made the case that the Constitution requires the him to get approval from Congress for foreign emoluments offered to him only if they relate to his capacity as president.
But a former White House ethics chief was of a different opinion on the matter than George Conway.
"This is yet another blatant violation of the Emoluments Clause of the Constitution," tweeted Richard Painter, who was a chief ethics lawyer under President George W. Bush. "Unless Congress impeaches him, he'll do anything he wants."
Kimberly Benza, executive assistant to the president's son Eric Trump and corporate communications for the Trump Organization, in a emailed statement to Newsweek Thursday afternoon said:
The Reuters story is factually inaccurate and materially misleading. While the article states that "Trump World Tower is controlled by a limited partnership owned by Trump", that is simply not true. Trump World Tower is not owned or controlled by Trump, but is instead owned by individual, third-party unit owners and controlled by a condominium board made up of those owners. As a result, when units are sold or leased, Trump does not receive a penny because it is not the seller or lessor of those units. Instead, those sums go entirely to the unit owner who is selling or leasing. Without the statement that Trump World Tower "is controlled" by Trump, there is no connection between the sale or lease of units and any amounts paid to Trump and, therefore, no story at all. We specifically told Reuters that the underlying premise for their story was not accurate but they chose to publish it anyway and intentionally mislead their readers. As a result, we are now demanding a retraction.
This story has been updated with a statement from the Trump Organization.