George Conway, the husband of White House counselor Kellyanne Conway, mocked President Donald Trump Tuesday for describing his phone call with Ukrainian President Volodymyr Zelenskiy as "perfect" in light of damning testimony from key witnesses during the morning's impeachment hearings.
"This testimony, from two witnesses to the July 25 call, is absolutely devastating. That call was absolutely "perfect," all right—perfectly impeachable. And criminal," Conway wrote on Twitter.
Conway's comment came during the third day of public impeachment hearings on Capitol Hill, which featured testimony from Lt. Col. Alexander Vindman, the top Ukraine specialist on the National Security Council and Jennifer Williams, a foreign service aide to Vice President Mike Pence.
The two senior officials were directly involved in the July 25 phone call between Trump and Zelenskiy. Reports that Trump tried to pressure Ukraine to investigate former Vice President Joe Biden and his son Hunter during the call prompted House Democrats to launch an official impeachment inquiry in late September.
Trump has repeatedly claimed that the call was "perfect" and demonstrated no wrongdoing. But both Vindman and Williams challenged the president's assertion during their opening statements on Tuesday.
"What I heard was inappropriate, and I reported my concerns to Mr. Eisenberg," Vindman said, referring to John Eisenberg, the top lawyer at the National Security Council. "It is improper for the president of the United States to demand a foreign government investigate a U.S. citizen and political opponent."
Williams told lawmakers that she found the Trump-Zelenskiy conversation to be "unusual" because, unlike other presidential calls she'd listened to, it "involved discussion of what appeared to be a domestic political matter."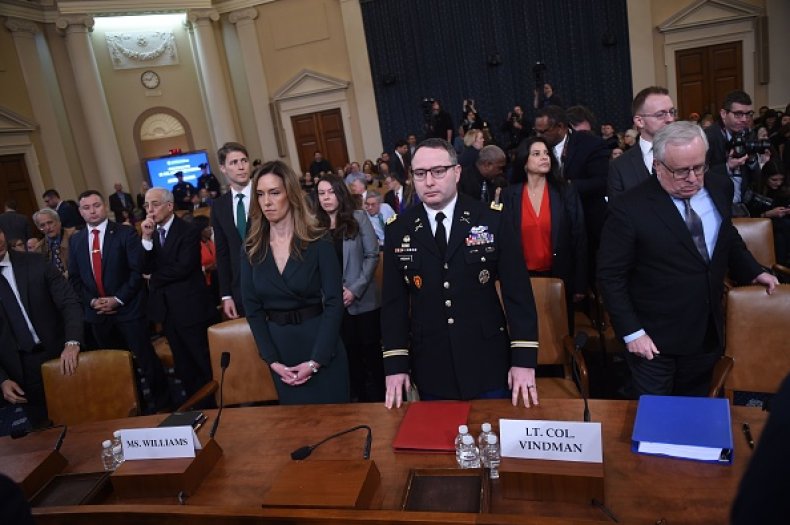 The ongoing impeachment probe entered a new phase this month as House Democrats moved the initial closed-door hearings into the public eye. Last week, lawmakers heard from three current or former White House officials including Bill Taylor, the top U.S. diplomat in Ukraine; George Kent, a top State Department official; and Marie Yovanovitch, former U.S. ambassador to Ukraine.
On Monday, Trump suggested he would be open to testifying either publicly or in writing as part of the ongoing impeachment inquiry. The president tweeted that House Speaker Nancy Pelosi "suggested on Sunday's DEFACE THE NATION that I testify about the phony Impeachment Witch Hunt. She also said I could do it in writing."
"Even though I did nothing wrong, and don't like giving credibility to this No Due Process Hoax, I like the idea & will, in order to get Congress focused again, strongly consider it!" Trump added.
Trump and his GOP allies have largely dismissed the probe as a "Democratic witch hunt." But polling shows that public support for removing him from office is growing. An ABC/Ipsos poll released Monday found that 70 percent of Americans think Trump was wrong to pressure Ukraine to investigate his political rivals, and that 51 percent of those surveyed said they believed the president should be impeached.