George Floyd Attorney Calls for First-Degree Murder Charge Against Derek Chauvin, Says Officer Knew Who the Victim Was
The attorney representing George Floyd's family in their case against the Minneapolis Police Department said heightened criminal charges are warranted for Derek Chauvin, one of four officers whose actions led to Floyd's death on Monday.
Addressing the case during CBS News' Face the Nation on Sunday morning, civil rights lawyer Benjamin Crump discussed the possibility that Chauvin and Floyd had interacted prior to last week's fatal arrest.
"We believe he knew who George Floyd was," Crump said in reference to Chauvin, adding that the new information could upgrade the charges currently filed against the fired officer to first-degree murder.
Four days after video footage of Floyd's death was first released, Hennepin County attorney Mike Freeman announced Chauvin was taken into custody and faces third-degree murder and manslaughter charges for his role in the killing.
The video showed Chauvin kneeling on Floyd's neck for close to 10 minutes, as Floyd repeatedly said he was struggling to breathe before eventually falling unconscious.
Chauvin and three other officers involved in the violent exchange were fired from the Minneapolis Police Department on Tuesday.
Charges for third-degree murder and manslaughter are similar, although they carry a lengthier maximum prison sentence when applied jointly than individually. Both indicate the individual charged with the death of another did not intend to take that person's life.
Chauvin's charges were issued ahead of reports that surfaced later on Friday, which cited comments from a former Minneapolis club owner who said both Floyd and the officer were employed by the venue. Chauvin had been the establishment's resident off-duty officer for the better of two decades, while Floyd had periodically worked as a security guard over the past year.
In his Face the Nation comments on Sunday, Crump explained that Chauvin and Floyd's shared employment potentially indicated the murder was premeditated, and therefore justified first-degree charges.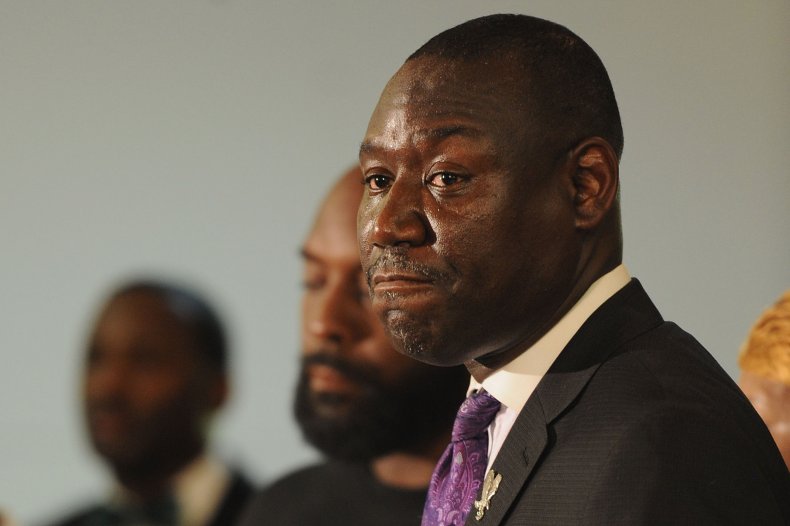 "They had to overlap," the attorney said of Chauvin and Floyd's respective work shifts. He suggested the scene captured on video was evidence enough of the officer's intent to cause serious bodily harm.
"We think that he had intent based on, not the one minute, two minute, but over eight minutes, almost nine minutes he kept his knee in a man's neck that was begging and pleading for breath," he said. "George Floyd died because of the knee being shoved into his neck, and he could not breathe."
Newsweek reached out to the offices of Crump and Chauvin's attorney for additional comments but did not receive replies in time for publication.