Celebrities were among the thousands of people who took to the streets to protest the killing of George Floyd over the weekend.
Protests erupted all over the country in cities like New York, Chicago, Atlanta, Washington D.C. and Minneapolis, where Floyd was killed by a white police officer on May 29. And while some celebrities offered words of support and encouraged people to march against racial injustice in America or donated massive amounts of money to funds and organizations dedicated to bailing out protesters, others including Michael B. Jordan, Halsey, Tinashe, Kali Uchis, Fiona Apple, Kendrick Sampson, Ellen Page, John Cusack, Machine Gun Kelly, Paris Jackson, Lauren Jauregui, Emily Ratajkowski, Cody Fern, Tyler the Creator, Camila Cabello and several others flooded the streets of their home cities to show their solidarity by joining protests themselves.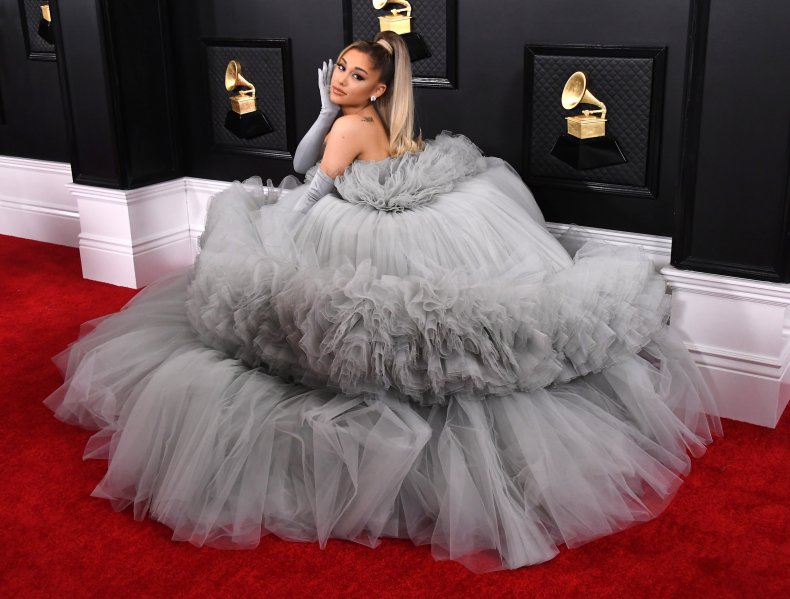 See below for more celebrities spotted at protests across the U.S. below.
Ariana Grande
Pop superstar Ariana Grande was spotted at the Black Lives Matter protest in Los Angeles on Saturday. The singer took to social media to share her journey peacefully marching through the streets.
"Hours and miles of peaceful protesting yesterday that got little to no coverage. All throughout Beverly Hills and West Hollywood we chanted, people beeped and cheered along. We were passionate, we were loud, we were loving. Cover this too please. #BLACKLIVESMATTER."
Tessa Thompson
The actor also called out the lack of media coverage of peaceful protests while she attended the Black Lives Matter protest on Saturday while noting the changing temperament once Los Angeles Police Department arrived.
"I can say that the #LosAngelesProtest was entirely peaceful until the @LAPDHQ arrived and escalated it. @MayorOfLA are you seeing this? Also, where was the robust media coverage then? #BlackLivesMatter," Thompson wrote on Twitter.
J. Cole
Rapper Cole, who has long advocated against police brutality, attended a protest in Fayetteville, North Carolina and spoke with organizers.
Chance the Rapper
The Chicago native spent much of last week in the streets protesting against police brutality and the wrongful killings of unarmed black men in his home town. At a rally he organized on Thursday, the rapper recalled his own terrifying encounters with law enforcement.
"I think a lot of people look at me as a person that has money, that has influence, that has power and doesn't deal with a lot of issues, but I still have PTSD from my run-ins with officers. I've had knees in my back," Chance said.
Lil Yachty
The Atlanta rapper attended a protest in Atlanta and offered a message of unity.
"It's unfortunate we gotta do this just to show our frustration. It shouldn't take that, but that's the life we live in and we gotta do what we gotta do," Yachty said. "We [going to] stick together because that's most important."
Jaylen Brown
Boston Celtics player Jaylen drove a reported 15 hours to attend protests over Floyd's death in his hometown of Atlanta. "I chose to do a peaceful protest that was my choice you do not get to choose for the rest of America," Brown wrote on Twitter on Sunday.
Miguel
Singer Miguel shared a video of protesters on his Instagram on Friday.
Nick Cannon
The Masked Singer host flew to Minneapolis to join protesters and shared a number of pictures and videos on his social media. "Stop Killing Us," Cannon captioned an Instagram photo of himself wearing a hoodie plastered with Floyd's final words "Please I Can't Breathe."
Jamie Foxx
The actor was also spotted attending protests in Minneapolis over the weekend. Foxx shared a post on Instagram highlighting a number of black men and women who have been killed at the hands of law enforcement on Sunday.
"We cannot be silent anymore... I've been going to rallies [sic] since Rodney King... when Treyvon Martin Happened I got a chance to forge a relationship with his mother @sybrinafulton ... Who is now running for commissioner in Dade county Miami... we both have witnessed an acceleration of young black man being killed senselessly by police officers and random civilians trying to act like police officers," Foxx wrote. "Being in Minnesota for George Floyd Felt like the straw on the camels back... we have to change policy when it comes to police brutality... We will be heading up to San Francisco tomorrow to meet with the mayor @londonbreed to have a Push for real change!! We cannot let all of these black folk down.... #blacklivesmatter."
Timothée Chalamet
The actor attended protests in Santa Monica, California and shared video footage of his March on Instagram Stories.
Kehlani
The singer shared pictures and videos captured during her time protesting at the Black Lives Matter rally in Los Angeles.
"LIVE. NO JUSTICE, NO PEACE. LOS ANGELES MAY 30TH 2020. RESPECT EXISTENCE OR EXPECT RESISTANCE. #BLACKLIVESMATTER OUTSIDE INSIDE TODAY YESTERDAY TOMORROW AND FOREVER. POWER TO THE PEOPLE," Kehlani wrote.