George Floyd's Childhood Friend Says It Was 'Heartbreaking' to Find Out How He Died
A childhood friend of George Floyd has said it was "disturbing" to find out how the man lost his life.
Video footage seen around the world of the moments leading up to 46-year-old Floyd's death showed a Minneapolis police officer pinning him to the ground with a knee on his neck for several minutes while Floyd said he couldn't breathe.
Jonathan Veal, who said that he and Floyd had played sports during their middle- and high-school years in their hometown of Houston, Texas, told KOCO 5 that he was heartbroken after hearing the news.
"It was very heartbreaking and disturbing to hear my childhood friend lost his life that way," he told the station. "He was expressionless. Even the bystanders were yelling, almost violently at the officers."
Veal added that he wanted to see a change in the way police and the black community interact as a result of his friend's death.
Other friends and family members have also paid tribute to Floyd, including his brother Philonise Floyd, who told CNN on Tuesday that he was a "gentle giant" who was there for everyone. "Knowing my brother is to love my brother," he said.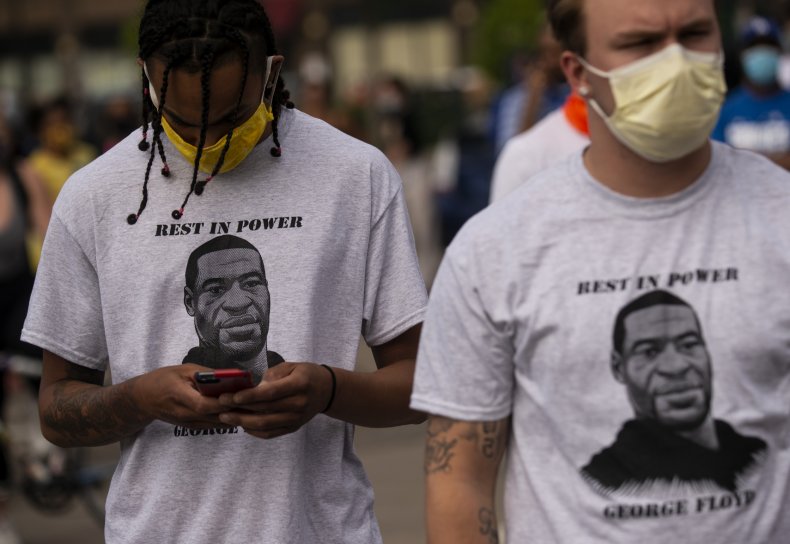 Christopher Harris, another childhood friend, told The Associated Press that Floyd left Houston to start a new life in Minneapolis several years ago.
Harris said he and other friends had moved to the city in 2014 in search of work. They convinced Floyd, who had recently been released from prison, to join them.
Harris said Floyd recently found himself in the same situation as millions of other Americans due to the coronavirus pandemic. He lost his job as a bouncer at a restaurant when Minnesota Gov. Tim Walz issued a stay-at-home order.
On Monday night, an employee at a grocery store in Minneapolis called police after Floyd allegedly tried to use a counterfeit $20 bill, the AP reported.
Harris said he couldn't believe Floyd would resort to forgery. "He was doing whatever it takes to maintain going forward with his life," he said. Harris added that the way his friend died was "senseless."
"He begged for his life. He pleaded for his life. When you try so hard to put faith in this system, a system that you know isn't designed for you, when you constantly seek justice by lawful means and you can't get it, you begin to take the law into your own hands," he said,
Minneapolis police said in a report that Floyd had resisted arrest, but footage from a store's security tape released later appeared to show him complying with officers.
The four officers involved in the incident have been fired, but Floyd's death has set off violent protests in the city as his family and others called for the officers to face criminal charges.
Meanwhile, a petition demanding the four officers be charged has amassed more than 500,000 signatures.
Minneapolis Mayor Jacob Frey also urged Hennepin County Attorney Mike Freeman to bring charges forward against the against Derek Chauvin, the officer who pinned Floyd down.
"We are working with the Minnesota Bureau of Criminal Apprehension and the Hennepin County Medical Examiner to expeditiously gather and review all of the evidence in the tragic death of Mr. George Floyd," a statement from Freeman's office said in response to Frey's remarks.
"The videotaped death of Mr. Floyd, which has outraged us and people across the country, deserves the best we can give and that is what this office will do."