George Floyd GoFundMe Campaign Raises More Than $11 Million In Six Days
A GoFundMe campaign for George Floyd's memorial fund has amassed more than $11 million in donations in less than a week.
Floyd's brother Philonise Floyd set up the campaign page six days ago to raise funds to cover funeral and burial expenses as well as support the family.
As of Wednesday morning, more than 400,000 people have donated and the total stands at more than $11.3 million.
Philonise Floyd wrote on the campaign page that his life "shattered" when he saw the widely circulated video of a white Minneapolis police officer kneeling on his brother's neck for more than eight minutes that has sparked protests against police brutality across much of the U.S.
"My family and I watched in absolute horror as the now infamous and horrifying video began to spread quickly throughout social media," he wrote.
"What we saw on that tape left us shell shocked; a white Minneapolis police officer kneeling directly on my brother's neck, obstructing his ability to breathe.
"As some officers knelt on his neck, other officers participated and watched; no one took any action to save my brother's life. Those officers would continue to brutalize my brother until he died."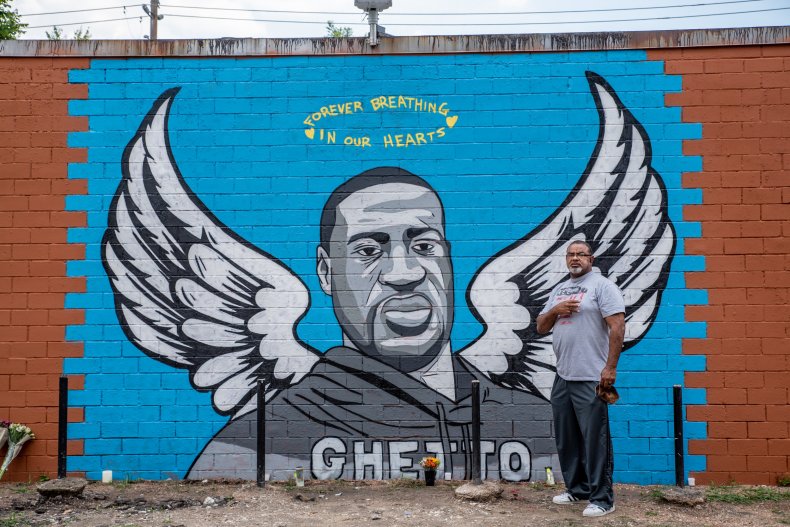 On the page, Philonise Floyd wrote the funds raised would cover expenses for his brother's funeral and burial, mental and grief counseling and "assist our family in the days to come as we continue to seek justice for George."
He added: "A portion of these funds will also go to the Estate of George Floyd for the benefit and care of his children and their educational fund."
Philonise Floyd also expressed his thanks to those who have reached out to the family in the wake of his brother's death.
"From the bottom of our hearts my family thanks each of you who have reached out," he wrote. "While we are not able to respond to each expression of love at this time, please know that we love and appreciate each and every one of you. Our hearts are overwhelmed!"
Another GoFundMe page set up by George Floyd's sister Bridgett has raised more than $340,000.
A spokesperson for the Fort Bend Memorial Planning Center in Houston, Texas, confirmed to Newsweek that retired boxer Floyd Mayweather is covering George Floyd's funeral expenses, but did not elaborate on whether he would be among those attending the service.
TMZ reported on Tuesday that Mayweather had written a check for $88,500 made out to the center in Houston, Texas to cover the costs.
The funeral will take place at at the Fountain of Praise church in his native Houston at 11 a.m. on June 9, according to the center's Facebook page.
A public viewing from 12 p.m. to 6 p.m. local time will be held the day before.
Benjamin Crump, an attorney representing the Floyd family, has been contacted for comment.