George Floyd Officer Wants County Attorney Removed From Case for Bias
Legal counsel for a former police officer accused in the May death of George Floyd filed a motion on Thursday to have County Attorney Mike Freeman removed from the case.
Attorney Thomas Plunkett is the defense lawyer for former Minneapolis police officer J. Alexander Kueng. Kueng, along with three other officers, was shown in video taken by an eyewitness restraining Floyd during an arrest attempt. During the arrest, former officer Derek Chauvin was seen kneeling on Floyd's neck for approximately eight minutes. After being transported to a local medical facility, Floyd was pronounced dead. Kueng was charged with aiding and abetting second-degree murder and aiding and abetting second-degree manslaughter in connection with Floyd's death.
During a news conference in May, Freeman said the video of Floyd's death was "graphic, and horrific and terrible, and no person should do that."
Plunkett said in his motion to have Freeman removed that Freeman's remarks showed bias toward his client. "Mr. Freeman's comments leave no doubt that justice is not his objective in the Kueng prosecution," Plunkett wrote. "Mr. Freeman has fomented public anger and now seeks to taint that anger with hatred through the prosecution of Mr. Kueng. He has abdicated his duties as a prosecutor and must be removed from the case."
"The HCAO [Hennepin County Attorney's Office] cannot act to protect Mr. Kueng's right to a fair trial as they have already proclaimed this guilt in numerous public statements," Plunkett's motion read. Plunkett also alleged that the HCAO had "fomented anger" and that the prosecution of Kueng would indicate an attempt to "taint that anger with hatred."
The Hennepin County Attorney's Office declined to comment to Newsweek for this story.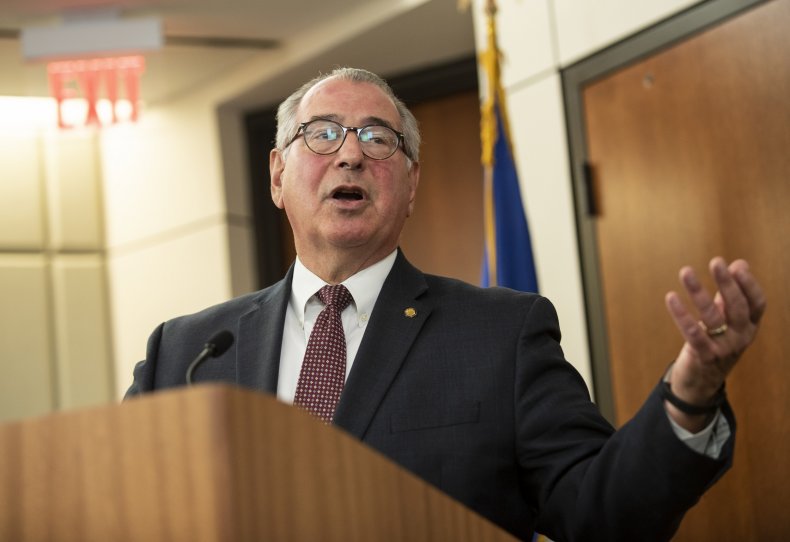 Former officers Thomas Lane and Tou Thao were also arrested on charges connected with Floyd's death. Kueng, Thao and Lane were released from jail after posting $750,000 bail. Chauvin's bail was set at $1.25 million. All four former officers are expected to go on trial in March 2021.
Earl Gray, Lane's defense attorney, filed for charges against his client to be dropped in July. According to a memorandum filed along with the motion for dismissal, Lane had only been on the job four days when he became involved in Floyd's arrest.
Gray alleged that Lane was following Chauvin's orders and harbored no murderous intent toward Floyd. "Lane did not know what Chauvin was thinking while restraining Floyd," the memo read. "Chauvin did not verbally tell Lane anything about his intentions other than waiting for the ambulance to arrive. Lane knew Floyd needed to be restrained and he knew Chauvin was authorized to use reasonable force to restrain."
Thao's attorney said in July that charges against his client were not supported by probable cause and should be dismissed. Attorney Robert Paule wrote in his motion that the state of Minnesota had the burden of proof in Thao's case. According to the filing, state prosecutors must show that Thao had prior knowledge that his former colleagues planned to commit a crime and "intended his presence or actions to further the commission of that crime."
Floyd's death was one of multiple high-profile killings of Black people by white individuals, including members of law enforcement, that inspired nationwide protests against racism and police culture. Advocacy group Black Lives Matter, which organized many of the protests, has called for defunding U.S. police departments and funneling the monies into underserved communities.