George Floyd Police Officers Had Been on the Job For Just Four Days
Two of the four officers involved in George Floyd's death had been police officers for just four days, according to their defense attorneys.
Earl Gray and Tom Plunkett, the attorneys for former officers Thomas Lane and J. Kueng, respectively, said that their clients had only been on the job for four days when George Floyd was killed, according to a report by Associated Press.
Police records indicate that they joined the Minneapolis police department in February 2019 and became full officers in December. Minneapolis police officers have to serve a year on probation and spend time training with senior officers before being fully qualified.
Lane and Kueng, alongside Tou Thao, are each accused of aiding and abetting second-degree murder and aiding and abetting second-degree manslaughter.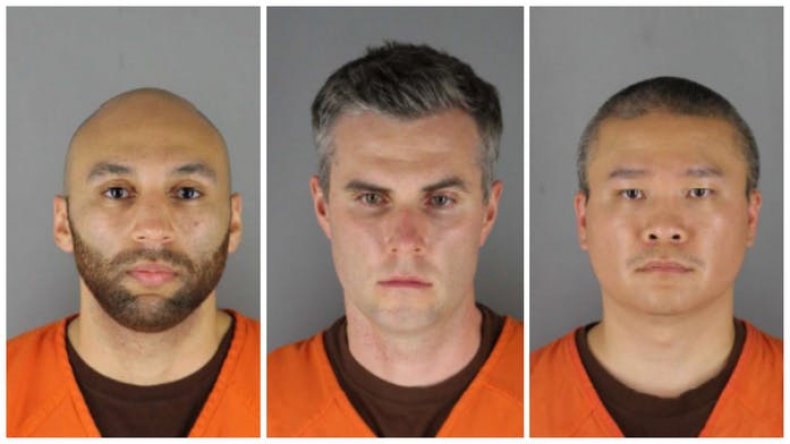 The fourth officer, Derek Chauvin, who kneeled on Floyd's neck for nearly nine minutes, was a 19-year veteran with the city's police department. Chauvin was initially charged with third-degree murder and second-degree manslaughter, but the charge has since been elevated to second-degree murder.
If Lane, Kueng, and Thao are found guilty, they could face the same penalty as Chauvin, which is up to 40 years in prison.
But Gray says Lane asked Chauvin twice if they should roll Floyd over and later performed CPR on Floyd in the ambulance. According to the AP report, Gray said: "What was my client supposed to do but follow what his training officer said? Is that aiding and abetting a crime?"
Plunkett says Kueng, who is black, became a police officer because he "wanted to make his community a better place," the AP report said. He also said that Kueng was raised by his single mother on Minneapolis' predominantly black north side.
Gray and Plunkett have also asked for Lane and Kueng's bail, which is set at $750,000 each, to be lowered.
Chauvin is being held at the Minnesota Department of Corrections facility in Oak Park and on Wednesday his bail was increased to $1 million.
Floyd died on May 25, and all four officers were fired the following day when the protests began. Chauvin was arrested on May 29 while Lane, Kueng, and Thao were arrested on June 3.
While the official autopsy by Hennepin County declared Floyd's death a homicide caused by a cardiopulmonary arrest, an independent autopsy determined that Floyd's cause of death was a homicide caused by asphyxia "due to neck and back compression that led to a lack of blood flow to the brain."
Black Lives Matter protests against police brutality have been taking place across the U.S. and internationally in the wake of Floyd's death. The protesters are seeing justice for other Black people killed by police, including Breonna Taylor, who was killed in March by Louisville police.