Donald Trump Says New York City Is 'Out of Control' As Protesters Defy Curfew
A second night of New York's city-wide curfew has restored some calm to the streets. However, President Donald Trump has still taken a swipe at the city's governor and mayor, insisting local police need "additional help."
In the first hour following the 8 p.m. curfew, officers closely followed demonstrators who continued to march chanting protest slogans in action sparked by the police killing of George Floyd in Minneapolis.
Some demonstrators flouted the curfew and tried to cross the Manhattan Bridge from Brooklyn, before turning back peacefully. While many did face off with police, there were fewer violent confrontations between officers and protesters.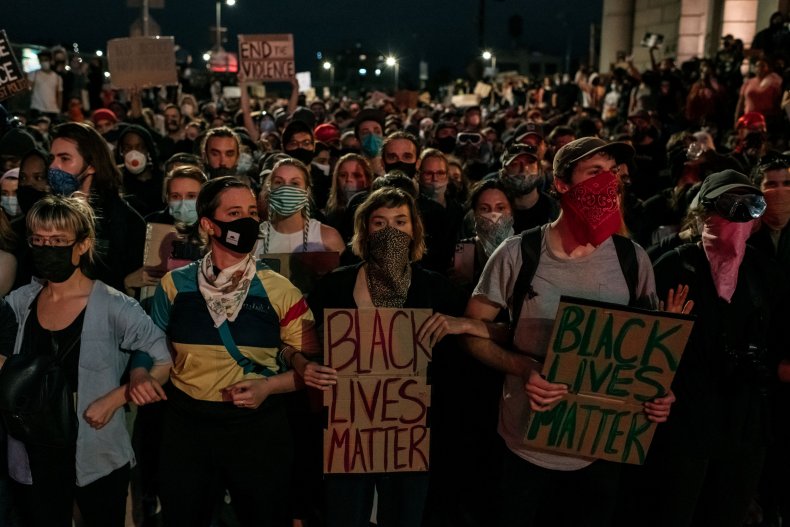 Around 9.30 p.m. officers charged into a group of protesters. Police became more forceful throughout the night, with a number of arrests being made after 11 p.m. around Union Square and Astor Place.
However New York Mayor Bill de Blasio tweeted at 11 p.m. that there had been less unrest than the previous night, saying: "So far, the curfew is certainly helping, based on everything I've seen in Brooklyn and Manhattan over the last three hours."
An hour before de Blasio made his assessment of Tuesday's protests, Trump reiterated his call at 9.57 p.m.for tougher policing measures to be implemented in New York. "Chaos, lawlessness, and destruction take over New York." @FoxNews When will Governor Cuomo call the Federal Government for help," he tweeted.
Less than an hour later, Trump wrote: "New York's Finest are not being allowed to perform their MAGIC but regardless, and with the momentum that the Radical Left and others have been allowed to build, they will need additional help.
"NYC is totally out of control." @NYCMayor & @NYGovCuomo MUST PUT DOWN RIOTING NOW!"
Earlier on Tuesday, Trump had called on Cuomo to bring in the National Guard, saying "the lowlifes and losers are ripping you apart. Act fast!"
A night after looting at Macy's Herald Square store, razor wire was erected outside Saks Fifth Avenue. Police made arrests outside a Zara store at Broadway and Vesey Street and there were several arrests.
The New York Police Department's (NYPD) intelligence bureau has been tracking looters and vandals they say are using the protests of the death of George Floyd as a cover for their crimes. Officers have been collecting license plate numbers from vehicles that transported thieves over the last two days.
New York police reacted angrily to Cuomo's earlier criticism that the NYPD and the mayor "did not do their job" in curbing the violence on Monday night. President of the Police Benevolent Association (PBA) Pat Lynch said in a statement: "It's not our fault that our city and state governments can't plan and work together but we are suffering the consequences."
Police said on Monday there were around 700 arrests, although figures for Tuesday night were not immediately available. Newsweek has contacted the NYPD for comment.