George Floyd Trial Witness Donald Williams Tears Up Over His 911 Call About Seeing 'Murder'
Donald Williams, a mixed martial arts fighter who witnessed George Floyd's death while in Minneapolis police custody last May, testified on Tuesday that he called 911 on the officers because he believed he was a witness to a "murder."
Tuesday marked Williams' second day of testimony in former Minneapolis police officer Derek Chauvin's trial in Floyd's death. A professional fighter, he testified that he knew Floyd was in serious trouble and tried to warn officers, but to no avail.
After the ambulance left with Floyd, Williams told the jury, he decided to "call the police on the police" and dialed 911. Asked if he believed the officers were involved in Floyd's death, he answered affirmatively.
"They pretty much just killed this guy who wasn't resisting arrest," Williams said on the 911 call. "The man was already in handcuffs.... The dude was not responsive when the ambulance came and got him."
The dispatcher told Williams she would transfer him to a sergeant, and while waiting for someone to come on the line, Williams is heard telling officer Tou Thao, "Y'all are murderers." Williams said he addressed Thao because the officer was trying to "intimidate" him by pointing his body camera at him.
At some point, the 911 call gets dropped, although Williams couldn't remember if he hung up or if it was the dispatcher who ended it. Williams told the jury he didn't know what else to do.
Williams, who was visibly upset as the call was played and teared up, told the jury he stayed on the scene after the ambulance pulled away because he wanted to conduct his own investigation.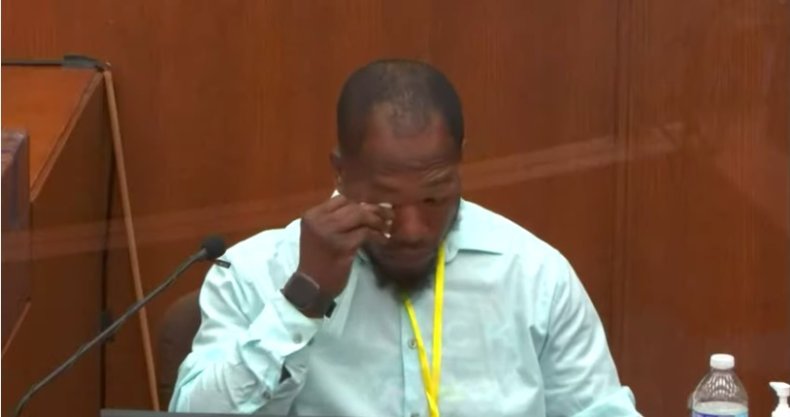 On cross-examination, Eric Nelson, Chauvin's attorney, said that Williams berated the officers, calling them a "bum," "tough guy" and a "real man." In a tense exchange, Williams repeatedly answered that those comments were correct if that's what the attorney saw on the video. The judge advised the witness to answer "yes" or "no."
Williams also grew irritated with the assertion that he was "angry" at the officers, telling Nelson that he wasn't going to "paint me out as angry." While he sounded upset on the video and raised his voice, Williams said, he was "controlled" during the encounter.
Chauvin's trial began on Monday, about 10 months after Floyd died. The defense argued that Chauvin, who was seen kneeling on Floyd's neck for over minutes, was only doing what he was trained to do, but Williams, who has been trained in chokeholds, told the jury he warned Chauvin he was going too far.
As he approached Cup Foods, where Floyd was being arrested on May 25, Williams saw the police and stopped when he sensed that something was wrong and heard concerned comments from other bystanders.
When he arrived on the scene, Williams said, Floyd was able to speak but seemed "distressed." Drawing on his more than a decade of experience in mixed martial arts, he compared Chauvin's positioning on Floyd to a "kill choke" move.
"The officer on top was shimmying to actually get the final choke in while he was on top, the kill choke," Williams said. "[Chauvin] looked at me right here. The only time he looked up was when I said it was a blood choke. We looked at each other dead in the eye, and when I said it he acknowledged it."
The video showing Chauvin's kneeling on Floyd's neck ignited weeks of protests and calls for justice. Chauvin, as well as three other officers, was fired from the Minneapolis Police Department and all four face charges.
Chauvin is the first of the four officers to be tried and faces three charges: second-degree manslaughter, second-degree unintentional murder and third-degree murder. All three charges are being presented to the jury, which will be tasked with deciding if Chauvin is guilty and of what charge. If convicted of the most serious charge of third-degree murder, the officer faces 40 years in prison.
Williams told the jury that as Chauvin's knee pressed on Floyd's neck, he saw him "fade away." Just as he can tell in a mixed martial arts fight when someone is getting tired or choked out, Williams said, he could see Floyd struggling to breathe, and the fighter pleaded for Floyd's life.
Nelson argued that Floyd's death was the result of hypertension, drugs and adrenaline flowing through his body, which he said "acted to further compromise an already compromised heart." He said there was "no evidence that his airflow was restricted."
"You will learn that Derek Chauvin did exactly what he had been trained to do over the course of his 19-year career," Nelson said during opening arguments. "The use of force is not attractive, but it is a necessary component of policing."
On Tuesday, Nelson pointed out that Williams wasn't privy to what transpired between the officers and Floyd before he arrived on the scene. He also questioned whether a fighter ever returned to a fight after passing out.
Williams answered affirmatively, saying that it had happened. But on cross-examination, prosecutors asked if that had ever occurred when it was "three on one" and the fighter was handcuffed. Williams responded no to both questions.