George Floyd's Brother Defends Las Vegas Raiders Tweet After Team Faces Backlash
George Floyd's brother Philonise defended the Las Vegas Raiders for their widely criticized "I Can Breathe" tweet on Wednesday.
"On behalf of our family, I would like to extend our deepest gratitude to the Las Vegas Raiders organization and its leadership for their support of our family and for our nation's ongoing pursuit of justice and equality for all," Philonise Floyd said in a statement.
"Now, more than ever, we must come together as one and continue on in this fight. For the first time in almost a year, our family has taken a breath. And I know that goes for so many across the nation and globe, as well," he added. "Let's take this breath together in honor of my big brother who couldn't. Let's do it for George."
The football team faced widespread backlash for a tweet sent from the Raiders' official Twitter account after former Minneapolis police officer Derek Chauvin was convicted of murdering George Floyd on Tuesday.
The tweet read: "I CAN BREATHE 4-20-21." Viral videos of Floyd moments before his death showed him telling officers, "I can't breathe," more than 20 times while Chauvin knelt on his neck for more than nine minutes.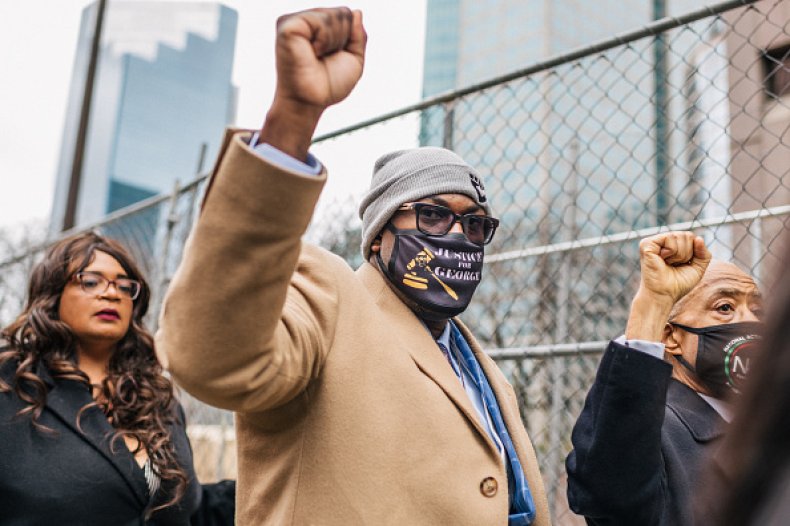 While the post from the NFL franchise was widely criticized on social media, Las Vegas Raiders owner Mark Davis defended the tweet, saying it was his idea.
Davis told ESPN he "meant no disrespect" to Floyd's family and that he "took the lead" from Philonise, who said, in response to the verdict, "Today, we are able to breathe again."
"I felt that was a powerful statement," Davis said. "Today was a day where I can breathe, and we can all breathe again because justice was served. But we have a lot of work to do still on social justice and police brutality."
The owner told The Atlantic that he was "deeply, deeply disappointed" if he offended the family, but that he would not take the tweet down.
"I could un-pin it and let it run its course. It's already out there... It's not an apology. I'm not embarrassed by what I said, but I did learn something now," Davis said.
The tweet remains on the Raiders' official Twitter account. Shortly before tweeting the controversial image, the team also retweeted a statement from the NFL promising to "help move our society towards a more equal and just tomorrow."
"Today's outcome in the Derek Chauvin trial in Minneapolis does not undo the loss of life," the league wrote. "Mr. George Floyd should be here with us today. Our hearts remain with the Floyd family, and we understand the pain, anger and frustration does not go away even when justice is delivered."
Newsweek reached out to the Las Vegas Raiders for comment, but did not hear back before publication.