George Floyd's Brother on His Hopes for Outcome of Derek Chauvin Murder Trial
George Floyd's brother will face Derek Chauvin, the former Minneapolis police officer charged in his sibling's death, in court.
Terrence Floyd, 43, said his family is going through a "trying time" with Chauvin's trial set to get underway, with jury selection beginning Tuesday.
"It's surreal right now," he said during a news conference in New York City on Monday. "We have to relive this whole situation all over again."
Chauvin, 44, was filmed kneeling on the 46-year-old Black man's neck for more than eight minutes on May 25 last year, as George Floyd repeatedly gasped that he could not breathe.
Video of the encounter was posted online, prompting widespread protests and a national reckoning on race and policing.
Chauvin is charged with second-degree murder and manslaughter in George Floyd's death. Three other officers involved in George Floyd's death were fired alongside him—they have been charged with aiding and abetting second-degree murder and manslaughter and will be tried separately.
Terrence Floyd said he would head to Minneapolis for Chauvin's trial. Because of the coronavirus pandemic, only one relative will be permitted to sit in the courtroom at any time.
"I'm gonna get through this. I'm gonna help my family get through this," he said. "I'll be down there for this case, and I'm praying and hoping for the outcome that we all want."
But even if it is not the one his family hope for, he said: "I just know and believe in my heart that there's gonna be change, regardless, for us as a nation."
The weeks-long process of selecting a jury for Chauvin's trial had been set to begin on Monday, but was delayed to Tuesday.
Prosecutors have asked the Court of Appeals to delay the trial until the issue of whether or not to reinstate a third-degree murder charge is resolved. Hennepin County Judge Peter Cahill said on Monday that he would continue with proceedings until the appellate court ordered otherwise.
Gwen Carr, the mother of Eric Garner—a Black man who died in 2014 after a New York police officer placed him in a banned chokehold—also spoke at the news conference on Monday.
She said George Floyd's death "touched [her] heart so personally" because her son had also repeatedly gasped that he couldn't breathe in his final moments.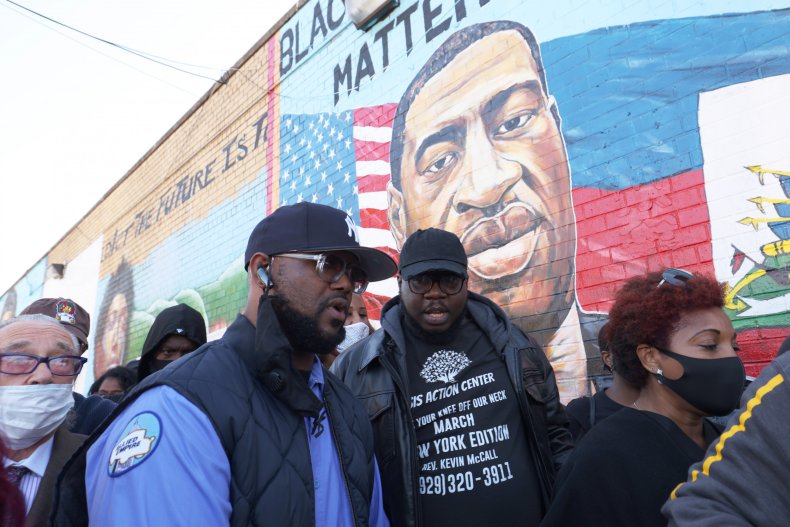 Recalling that no criminal charges were ever filed in Garner's death, she said: "I hope that they continue to do the right thing down in Minnesota. Even though they fired the officers, even though they did the right thing in the beginning, don't think that this is a slam dunk.
"Once you get into court, they try to assassinate the victim again. First, they murder him—they assassinate him on the street. Then they want to assassinate the character."
She added: "We just need a justice system that is true, that is fair to all people, not just some."