George Floyd's Family Marks First Day of Derek Chauvin Trial by Kneeling for 8 Minutes
George Floyd's family marked the first day of former Minneapolis police officer Derek Chauvin's trial by kneeling for eight minutes and 46 seconds—the amount of time Chauvin pressed his knee into Floyd's neck before his death on May 25 last year.
"We are taking a knee for eight minutes and 46 seconds, and we want you to think of during that time: Why Chauvin didn't, in that time, get his knee up?" the Reverend Al Sharpton said in a news conference on Monday morning.
Chauvin is charged with second-degree murder, third-degree murder and second-degree manslaughter. He has pleaded not guilty.
Floyd, an unarmed 46-year-old Black man, died after Chauvin, a white 19-year veteran of the department, kneeled on his neck. Footage of the arrest, which occurred after a report of a fake $20 bill being used at a store, showed Floyd pleading with officers that he couldn't breathe and calling out for his deceased mother. At one point, Floyd told witnesses to the arrest, "They're going to kill me, man."
Floyd's death sparked a nationwide reckoning on police brutality and racial injustice. Last summer, hundreds of thousands of people took to the streets to express outrage over Floyd's death and call for criminal justice reform.
The three other responding officers involved in the arrest have been charged with aiding and abetting murder. They will be tried jointly in August. All four officers involved were fired by the Minneapolis Police Department the day after Floyd's death.
Benjamin Crump, the Floyd family attorney, said Monday that Chauvin trial "will be a referendum on how far America has come in its quest for equality and justice for all."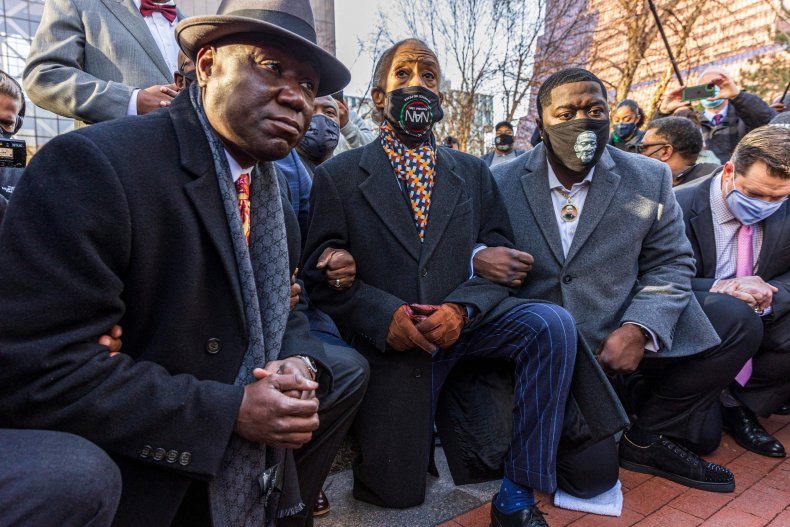 Crump and members of the Floyd family have said it should not be difficult to convict Chauvin.
"If this trial is hard, we got two justice systems in America—one for white America and one for Black America," said Brandon Williams, Floyd's nephew.
Floyd's brother Terrence Floyd told members of the press Monday that he had watched the video of his brother's death many times because it was the last time he could hear his voice.
"Every time I watched it, it made me stronger, because I knew they murdered him," Terrence Floyd said. "But we're still Floyd strong, and we're still here, so we're gonna hold it down for him."