One of the three former officers charged with violating George Floyd's civil rights testified Monday that his arrest and restraint "seemed reasonable at the time."
Thomas Lane, the last of the three former officers to present his case after Tou Thao and J. Alexander Kueng last week, added that Floyd had been "out of control" and said that he thought an ambulance would arrive "any minute."
Kueng, Lane and Thao are all charged with willfully depriving Floyd of his constitutional rights while "acting under color of law" and failing to administer medical care to Floyd despite knowing he needed it, according to the federal indictment unsealed in May. Kueng and Thao are also facing charges for allegedly failing to stop Derek Chauvin, who was convicted of Floyd's murder, from using the unreasonable force that led to his death, Newsweek previously reported.
During the deadly encounter in May 2020, Chauvin pressed his knee into Floyd's neck while Kueng knelt on Floyd's back and Thao kept bystanders at bay. Lane testified that he didn't realize how severe Floyd's condition was until paramedics turned him over.
That was the first time Lane had seen Floyd's face since he had been handcuffed and placed facedown on the ground, and he allegedly thought he had seen Floyd's chest moving as if he was breathing, Lane testified. Lane also said that based on the look of the veins in his arm, he believed Floyd still had blood pressure, according to Minneapolis news station WCCO.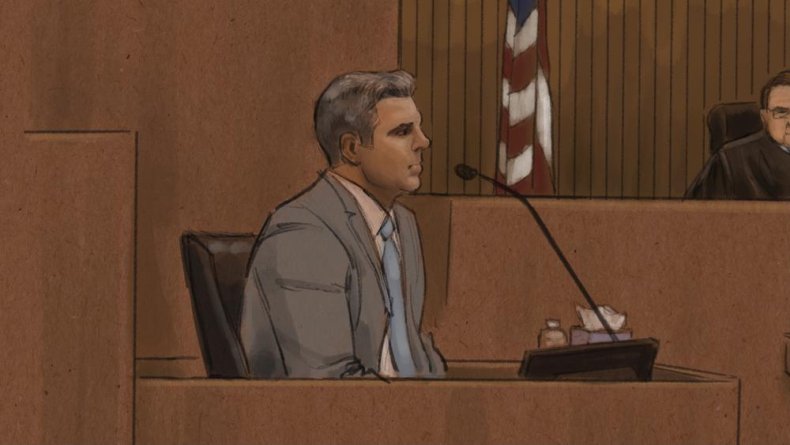 When Lane's attorney, Earl Gray, asked him what went through his mind when he saw Floyd's face after he had been tipped over, Lane responded that he "didn't look good."
While being cross-examined by prosecutor Samantha Trepel, Lane said that his training taught him that he had a responsibility to intervene and provide medical care when needed. He acknowledged that CPR should be administered to someone who doesn't have a pulse as soon as possible "in ideal situations," but said this wasn't always feasible while working in law enforcement.
Despite agreeing with Trepel that someone should receive medical aid when they are passed out and someone is kneeling on their neck, Lane claimed that he wasn't sure where Chauvin's knee had been or how much pressure he was exerting when Floyd lost consciousness.
Lane claimed that the officers weighed using a restraint device called a hobble at one point that would have made it necessary to turn Floyd onto his side to make breathing easier, but they ultimately decided not to use it. He added that using a hobble "seemed kind of excessive" since a supervisor would have had to be called to the scene of the arrest. He had already called an ambulance and the hobble would have had to be removed for the paramedics.
Lane also testified that Chauvin had rebuffed his suggestions to put Floyd's legs up since he was kicking and, later, to roll him onto his side when he stopped resisting. It was only after seeing Floyd's face that he got into the ambulance that had arrived and was directed to administer chest compressions in an attempt to save his life, Lane said, according to WCCO.
Closing arguments for the trial are scheduled to take place Tuesday. Last week, Kueng and Thao testified that their actions had been guided by Chauvin, Newsweek reported.All four of the officers lost their jobs in the Minneapolis Police Department after Floyd's death.