George H. W. Bush Funeral: Will Donald Trump Have to Sit Next to Barack Obama During the Ceremony?
Political leaders and dignitaries from around the world will gather in Washington, D.C., on Wednesday to pay their respects to the late President George H.W. Bush, who died last Friday at his home in Texas at the age of 94.
The state funeral, which will be held at Washington National Cathedral, brings together the five remaining members of what is known as "the president's club," including President Donald Trump and his four living predecessors: Barack Obama, George W. Bush, Bill Clinton and Jimmy Carter.
It will be the first time the five current and former U.S. leaders will be together since Trump's inauguration in 2017, with relations having been less than amicable between Trump and his forerunners since he took office.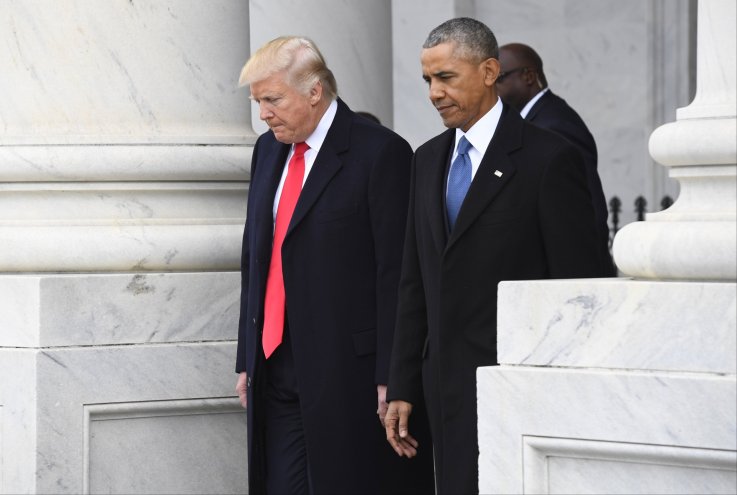 If tradition is upheld, it is likely that the group of presidents will be seated together at the state funeral, as U.S. leaders were for the funerals of Gerald Ford and Ronald Reagan, with the exception of George W. Bush, who is expected to be seated with his family as he mourns the loss of his father.
If protocol holds, the president will be separated from Barack Obama, whose policies he has painstakingly worked to dismantle, by only one seat, which would be filled by first lady Melania Trump, according to CNN.
Since taking office, Trump has had very little contact with his predecessors, with the president not having spoken to Obama or Clinton since he was sworn into office, according to The Associated Press.
The U.S. leader did reportedly speak with George W. Bush during the confirmation process for Supreme Court Justice Brett Kavanaugh, as Bush Jr. had lobbied for the judge, who had served as staff secretary in his White House.
It wasn't clear whether Carter, who is now the oldest living president, had spoken with Trump since the U.S. leader's inauguration.
The body of Bush Sr. was brought from Houston to the U.S. Capitol in Washington on Monday to give the nation a chance to pay itsr respects before Wednesday's funeral service and Bush's burial in Texas.
Despite strained relations between the Bush family and Trump (neither Bush I or Bush II voted for Trump), the 41st president was clear about wanting the president of the United States to attend his funeral.
While Trump did not attend the funeral of Bush Sr.'s wife, Barbara, who died last April, the president has said he and first lady Melania, who have met privately with the Bush family in the past few days, would attend Wednesday's ceremony.
George H. W. Bush Funeral: Will Donald Trump Have to Sit Next to Barack Obama During the Ceremony? | U.S.