Beatles' George Harrison Celebrated on What Would Have Been His 77th Birthday
On Tuesday, fans celebrated late Beatles guitarist George Harrison on what would have been his 77th birthday.
Harrison was born in Liverpool, England in 1943. He began playing guitar in 1956, after first hearing Elvis Presley's "Heartbreak Hotel." In 1958, he auditioned for John Lennon and Paul McCartney's skiffle group The Quarrymen, which later became the iconic group The Beatles.
By the mid-1960's, Harrison's interest in folk and Indian music began to shift the Beatles' musical direction. The guitarist began introducing non-Western instruments to the band by 1965's Rubber Soul, where he played a sitar on "Norwegian Wood." On Revolver the following year, he played tambura on "Tomorrow Never Knows."
In the band's later career, he wrote a number of The Beatles' most popular songs including "Here Comes the Sun", "Something", and "While My Guitar Gently Weeps."
After The Beatles' 1969 break-up, Harrison released 12 solo albums, with All Things Must Pass being his first chart-topping album. Living in the Material World followed the album in 1973, earning him his second no. 1. Harrison also worked with influential Indian musician Ravi Shankar on his 1997 album Chants of India. He was diagnosed with throat cancer shortly after the album's release and promotion.
Harrison passed away at 58-years-old on November 29, 2001 in Beverly Hills, California. His final album Brainwashed was released posthumously in 2002.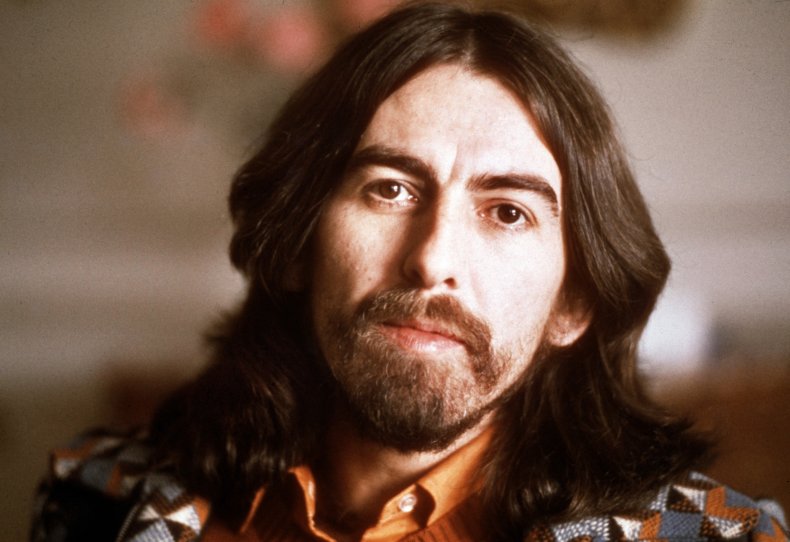 Fans shared photos and quotes of the singer to celebrate his birthday.
Spiritual-life strategist Ariaa Jaeger shared memories of seeing Harrison perform with The Beatles and later meeting him when she was a young musician. "When I was 20 I met him & spent a week parasailing, water gliding and laughing," she wrote. "You lit my life."
Musician Roy Orbison Jr. wished The Beatle a happy birthday, calling him "Uncle Nelson Wilbury," referencing his father's project with Harrison The Traveling Wilburys.
Sunny Days author David Kamp shared a lengthy Twitter thread recounting when he was supposed to interview Harrison for Vanity Fair, but the opportunity passed due to a legal deposition he needed to give in 1999. He then wrote about interviewing the musician's widow Olivia Harrison over a decade later for Martin Scorsese's Living in the Material World documentary. He concluded writing about admiring the guitarist's garden with his widow, including a photo of his Himalayan blue poppies and purple clematis.
Besides fans and musicians celebrating his life, The Beatles' and his estate's Twitter accounts announced that a new memorial woodland in Liverpool would open in 2021 to honor his life. According to Culture Liverpool, the 12-acre site will combine garden and woodland with art installations inspired by Harrison's life and lyrics.