George H.W. Bush Accused of Groping Teenager in Sixth Allegation Against Him
A sixth woman came forward Monday accusing George H.W. Bush of inappropriate touching—this time, a young woman who says the former president groped her when she was 16.
Roslyn Corrigan said the alleged incident occurred during an event she attended with her parents in 2003, at the CIA's offices in the Woodlands, Texas. When she and her parents posed for a photo with Bush, who was 79 at the time, Corrigan said he groped her behind.
"As soon as the picture was being snapped on the one-two-three he dropped his hands from my waist down to my buttocks and gave it a nice, ripe squeeze, which would account for the fact that in the photograph my mouth is hanging wide open," Corrigan told Time. "I was like, 'Oh my goodness, what just happened?'"
Corrigan recalled being at a loss for what to do. She said she wondered: "What does a teenager say to the ex-president of the United States? Like, 'Hey dude, you shouldn't have touched me like that?'"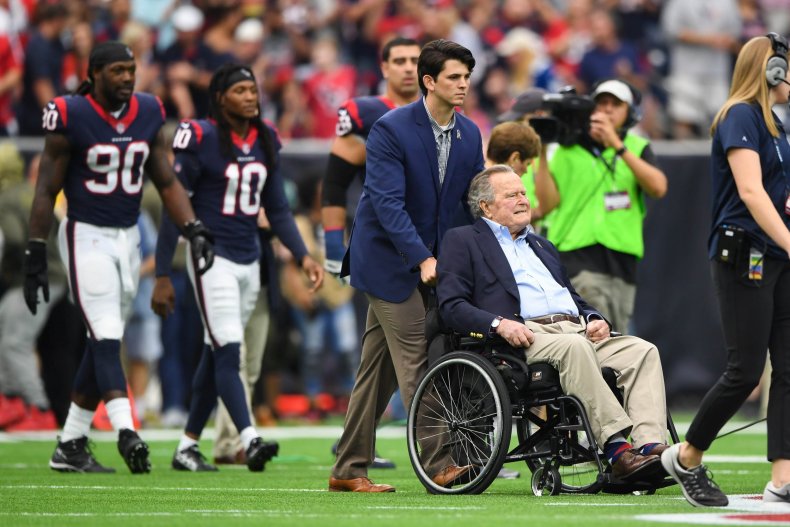 Corrigan said the incident is made worse by the fact that she was "a child" at the time.
"I don't know, maybe it never really hit people that I was a child at the time, and that goes beyond a guy being inappropriate in the workplace to a peer or somebody in his age range," Corrigan told Time. "I was a child."
Bush spokesperson Jim McGrath said in a statement, "George Bush simply does not have it in his heart to knowingly cause anyone harm or distress, and he again apologizes to anyone he may have offended during a photo op."
Five other women have gone public with similar stories about Bush touching them during photo ops. Actress Heather Lind was the first to speak out against the 41st president in October, saying Bush groped her from behind as his wife, Barbara Bush, looked on and "rolled her eyes as if to say 'not again.'" New York actress Jordana Grolnick, best-selling author Christina Baker Kline, former Maine state Senate candidate Amanda Staples and former journalist Liz Allen came out with allegations against Bush days later.
After Lind's accusation, Bush's spokesperson apologized on the former president's behalf and said Bush, who has been confined to a wheelchair for about five years due to vascular parkinsonism, intended the gesture—touching women's behinds without their consent—in a "good-natured manner."
"To try to put people at ease, the president routinely tells the same joke—and on occasion, he has patted women's rears in what he intended to be a good-natured manner," McGrath said in an October statement. "Some have seen it as innocent; others clearly view it as inappropriate. To anyone he has offended, President Bush apologizes most sincerely."