Former George HW Bush DOJ Officials Stress Importance of Hearing Witnesses at Trump Impeachment Trial
Former Bush Administration Justice Department officials Donald Ayer and Stuart Gerson urged senators to call witnesses for President Donald Trump's impeachment trial, saying none of them "should want to hide or ignore the facts."
The men, who served under former President George H.W. Bush, pressed for witnesses in a video that was released on Twitter Wednesday by Checks and Balances, a conservative attorney group.
Ayer, a former deputy attorney general, said that while the Senate can learn information from the impeachment managers, there's so much evidence that the managers have yet to secure, so they need to hear witness testimony. "The Senate can get the facts from the managers, but in so far as they deal with people and statements that the managers haven't yet been able to secure, they can really only get them by hearing evidence, and that's why there's a need to put people on who really know firsthand what hurt," he said. The Justice Department official included former National Security Advisor John Bolton and White House Chief of Staff Mick Mulvaney as people who should be called as witnesses.
Ayer told Newsweek that witnesses would show whether Trump tried to withhold aid from Ukraine, on the condition that Ukrainian President Volodymyr Zelenskiy begins an investigation to help Trump's campaign. "We have known all along that there are a number of people who can shed light on what the President did, and two of them are John Bolton and Mick Mulvaney," Ayer told Newsweek. "Now it is clear that if The New York Times report is correct, John Bolton will specifically say that the president expressed in unambiguous terms that the aid was going to be conditioned on Ukraine digging up political dirt in support of Trump's campaign."
Ayer also said that Republican senators should vote to hear witnesses before Bolton's book is released or they will look like "cover-up artists."
"It seems to me that the Republican senators who are apparently trying to thread the needle between staying on the right side of Donald Trump and doing their job as senators must now be thinking that it's going to look really awful if they vote not to hear witnesses and it becomes clear when John Bolton's book comes out, if not sooner, that he in fact knew for sure that Trump conditioned this aid on digging up dirt on Biden," Ayer said. "Given the heavy emphasis that the president's lawyers have put on a supposed lack of 'conditionality,' those senators are going to look like cover-up artists. The public is really going to wonder when they go to the ballot box, why their senator thought it was important to keep the facts from the public and keep the facts from the full Senate."
In the video, Gerson said that if Republicans want to keep impeachment trials consistent, new evidence needs to be presented. "Every impeachment that I know of had the introduction of evidence, and that was certainly true in the Clinton impeachment," Gerson said. "I understand that Republicans have made something about wanting consistency between the Trump impeachment trial and the Clinton impeachment trial. If indeed there is going to be consistency between the two, there will be new evidence taken now."
"[I]f the proceeding gets truncated with an immediate vote to dismiss or a vote not to have any witnesses and to just get on with the vote, as to convict or acquit the president of one or both of the two charges against him, then there would be a difference [between Trump's Impeachment and Clinton's]," Gerson told Newsweek. "The fundamental thing that I have been focusing on with respect to consistency is the taking of testimony. That was important in the Clinton impeachment. Indeed, Ken Starr, who unfortunately announced to the Congress the other day that he didn't believe that testimony and evidence was required, was a lion seeking evidence to be submitted during the Clinton trial, and it was. It wasn't live testimony. It was testimony from depositions that were taken off the floor, but the transcripts and video were available to the senators who voted. The idea [was] if you're going to have an open-mind, you might as well hear the evidence. The idea that we know everything already is ludicrous."
Checks and Balances did not immediately respond to requests for comment.
Ayer also warned that if the Senate does not collect new evidence, it would be a "bad omen."
"The idea that the Senate would simply say, 'We don't care, and we don't want to know the facts,' would be a very bad omen for the future," he said in the video.
"The big point is that stonewalling against hearing any evidence, when you know that there are at least two people who have already made clear that they have completely relevant and critical facts is totally unacceptable," Ayer told Newsweek.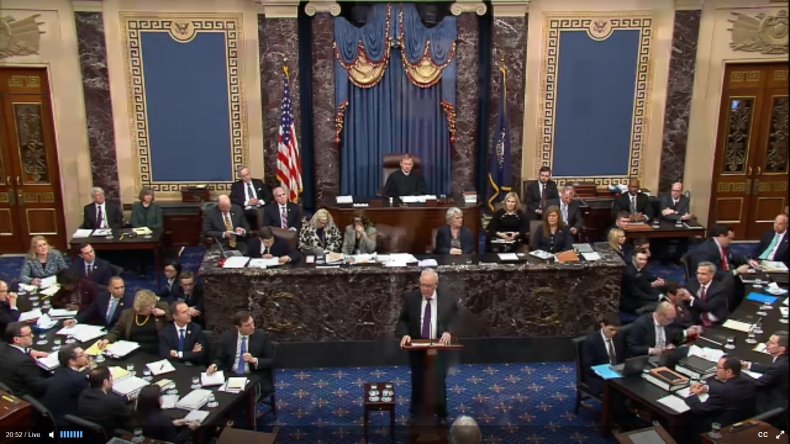 Update 1/29 3:04 p.m. EST.: This story has been updated to include comment from Stuart Gerson, which was received after the story was published.