George H.W. Bush Funeral: Bush Family Promises Trump He Wouldn't Be Criticized in Eulogies: Report
The Bush family assured President Donald Trump that he would not face criticism by those eulogizing the late President H.W. Bush at his funeral, sources familiar with preparations for the ceremony told The Washington Post.
During the funeral of Senator John McCain in September, several speakers spoke against Trump.
According to The Post, the Bush family had contacted Trump over the summer to tell him he would be welcome at the funeral, which will be held Wednesday at the National Cathedral in Washington D.C.
Of contrasts between patrician George H.W. Bush and brash Trump, one source familiar with funeral preparations told the news outlet, "the comparisons are presenting themselves; we are not heightening them."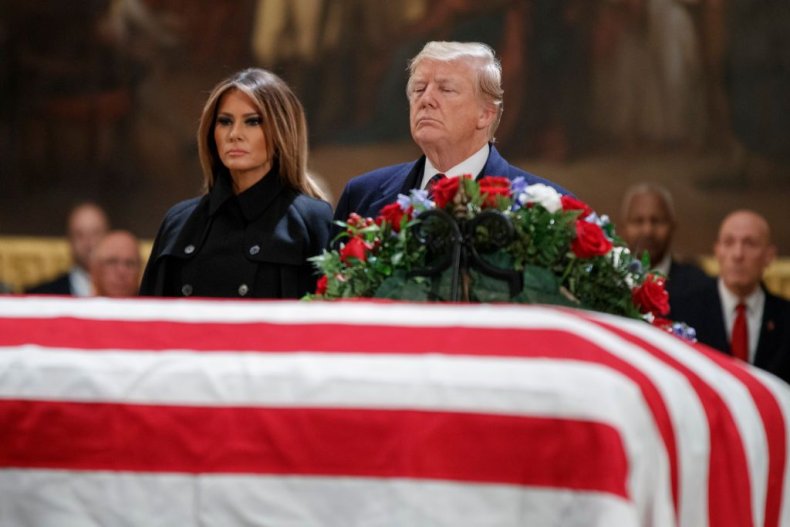 Another source close to the preparations told The Post that Bush "wouldn't want anyone there to feel uncomfortable, including the incumbent president.
"It's interesting, though, that praising the Bushes or McCain risks sounding critical of Trump even when Trump's in no way part of the thinking," the source told the newspaper.
Trump made an unannounced visit with the first lade Monday night to pay his respects to Bush, who is lying in state in the Capitol Rotunda.
The president will reportedly not be delivering a eulogy at Wednesday's funeral, and will sit alongside former presidents Jimmy Carter, Bill Clinton and Barack Obama.
Bush's son—the 43rd president, George W. Bush—will deliver a eulogy to his father.
Trump has been effusive in his praise of Bush, who died Friday at the age of 94.
"President George H.W. Bush led a long, successful and beautiful life," he tweeted Saturday. "Whenever I was with him I saw his absolute joy for life and true pride in his family. His accomplishments were great from beginning to end. He was a truly wonderful man and will be missed by all!"
Trump had previously ridiculed the Bush family and its political legacy, taunting Bush's oldest son, Jeb Bush, as "low energy" when the two were competing for the Republican nomination during the 2016 presidential campaign, and describing George W. Bush's decision to invade Iraq in 2003 as the "the worst single mistake ever made in the history of our country."
He has also mocked George H.W. Bush's "points of light" phrase from his 1989 inaugural address, inviting citizens to take action and serve their country through volunteer service.
"What the hell is that?" Trump said at a rally in July. "Has anyone ever figured that one out? And it was put out by a Republican, wasn't it? I know one thing, Make America Great Again we understand. Putting America first we understand."