George H.W. Bush Funeral Photos: The 41st President Laid to Rest—In Pictures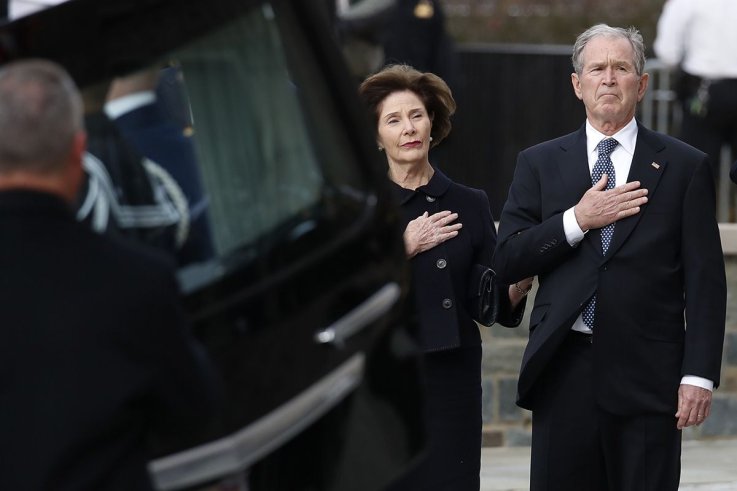 George H.W. Bush's life was honored on Thursday in his adopted home state of Texas with a funeral attended by family, friends and celebrities. This was the final service for the former president before his burial at his presidential library in College Station, Texas.
Family and friends, including former Secretary of State James Baker and grandson George P. Bush, offered eulogies for the 41st president at St. Martins Episcopal Church in Houston.
"My hope is that in remembering the life of George Herbert Walker Bush and in honoring his accomplishments we will see that we are really praising what is best about our nation—the nation he dearly loved and whose values that he embodied," Baker said.
George P. Bush shared a heartfelt email he had received from his grandfather, which said: "I think of you all an awful lot... If you need me, I'm here for you because I love you very much."
George P. Bush concluded by saying, "It's the honor of a lifetime to share his name."
Former President George W. Bush and Laura Bush also attended the service but did not offer eulogies.
A number of celebrities and athletes were also in attendance, including actor Chuck Norris, former NBA basketball players Yao Ming and Dikembe Mutombo, members of the band Oak Ridge Boys and singer Reba McEntire. Both McEntire and the Oak Ridge Boys performed during the service.
The casket of the former president took its final journey by train to the George H.W. Bush Presidential Library in College Station. He will be buried next to his wife, Barbara, who died in April of this year, and his daughter Robin, who died of leukemia in 1953 when she was 3 years old.