George H.W. Bush Doubted Anyone Would Come to His Memorial, People Waited Hours to Pay Their Respects
Former President George H.W. Bush once questioned whether anyone would come to his memorial, but following his death last Friday at the age of 94, thousands of people stood in line for hours to pay their respects to the 41st U.S. president at the Capitol Rotunda.
Bush's spokesman, Jim McGrath, shared on Twitter that in 2011, Bush was briefed about the plans for his funeral and lying in state. During the briefing, Bush asked, "Do you think anyone will come?"
McGrath said the question exemplified the former presiden'ts "typical humility." Seven years later, people waited hours to say their final goodbyes and pay tribute to him.
WJLA reporter Tom Roussey shared footage of the line waiting to get into the Capitol on Twitter. He said people had been waiting three and a half hours in 36-degree weather to honor the late president.
"The lines outside the Capitol are unbelievable right now," Roussey tweeted.
Bush died about eight months after his wife, former first lady Barbara Bush, who died at 92. The exact cause of death is not yet known, but he had been battling vascular Parkinsons in recent years.
"President George H.W. Bush led a long, successful and beautiful life," Trump wrote on Twitter. "Whenever I was with him I saw his absolute joy for life and true pride in his family. His accomplishments were great from beginning to end. He was a truly wonderful man and will be missed by all!"
On Monday, Bush was flown on Air Force One from Houston to Joint Base Andrews in Prince George's County, Maryland, where an arrival ceremony took place. The former president was then transported to the U.S. Capitol, where he lay in state from Monday evening until Wednesday morning.
Among the swarms of people who passed by Bush's flag-draped coffin on Tuesday to pay tribute was Wyatt Glennon, a seventh grader from Northwest Washington. He told The New York Times that his parents believed they should come. Even though Glennon wasn't alive during Bush's time in office, he left a note in the condolence book, thanking Bush for his contribution to America.
"I don't know much about his individual acts," Wyatt told The Times, "but I know that he was president of the United States, and that's enough for me."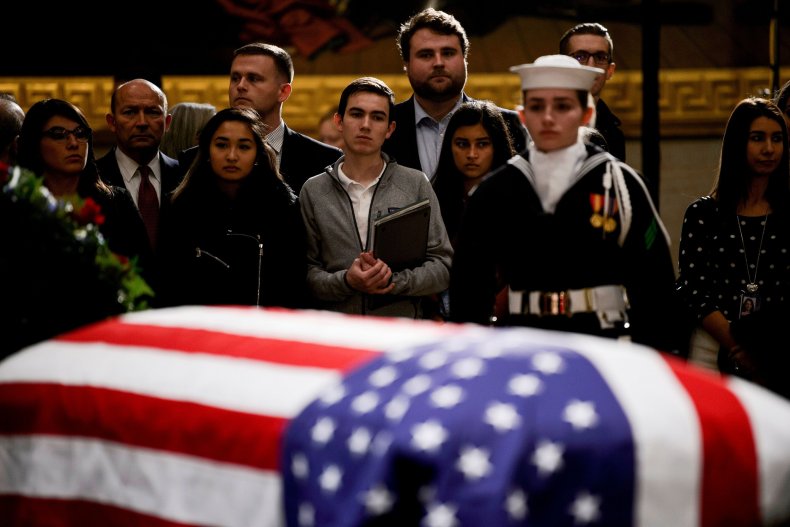 Other attendees included Cindy McCain, wife of the late Senator John McCain, members of Congress and Colin Powell, who served as Bush's Joint Chiefs of Staff. Powell applauded Bush for his kindness and humility, calling him the "perfect American."
Also stopping by the Capitol Rotunda was former Senator Bob Dole. Dole, 95, now uses a wheelchair, but he rose in front of the coffin and saluted his fellow World War II veteran.
"I believe there are certain qualities that veterans have and when Bush was president, I think about three-fourths of Congress were veterans, and we would stick together and work together across the aisle," Dole said on Saturday. "And President Bush was a bipartisan president. So we got quite a lot done."
On Tuesday evening, members of the Bush family, including former President George W. Bush and former Florida Governor Jeb Bush, made their way to the Capitol. The family thanked visitors for coming and George W. cradled one woman's 5-month-old daughter as the mother expressed her condolences.
Bush's funeral will take place on Wednesday at 11 a.m. at Washington National Cathedral. Along with the former president's family, former Presidents Barack Obama, Bill Clinton and Jimmy Carter will attend, as will President Donald Trump. The president's son George W. Bush will deliver one of three eulogies.
After the funeral, Bush's coffin will be flown back to Texas, where he will lie in repose at St. Martin's Episcopal Church from 6:45 p.m. until 6 a.m. on Thursday. He will be buried on the grounds of the George Bush Presidential Library and Museum at Texas A&M University, alongside his wife and daughter Robin, who died in 1953.