George H.W. Bush was able to listen to his eulogy by Jon Meacham before his death, the historian said following the late president's funeral services at the Washington National Cathedral on Wednesday.
Meacham, who wrote a biography about the 41st president, told NBC host Willie Geist that after hearing his own eulogy, Bush had said: "That's a lot about me, Jon."
Bush passed away on November 30, at the age of 94, less than eight months after the death of his wife of 73 years, Barbara Bush. Friends, family and former leaders gathered in the nation's capital on Wednesday to bid their final farewell to the late president. Those in attendance included President Donald Trump and first lady Melania Trump, who were seated in the first row along with the Obamas, the Clintons and the Carters.
Meacham was one of four speakers at the funeral service, delivering remarks along with former Canadian Prime Minister Brian Mulroney, former Senator Alan Simpson and Bush's son, former President George W. Bush.
In his speech, Meacham called Bush the "last great soldier-statesman," adding that he embodied many of the values of U.S. presidents like John Adams, Teddy Roosevelt and Dwight Eisenhower.
"He believed that to whom much was given, much was expected," Meacham said. The historian went on to say that although Bush was not perfect, "he left us a more perfect union."
The historian's eulogy also drew laughter from the crowd, especially from Bush's sons George and Jeb, when he lightly joked about how the politician's tongue sometimes "ran amok."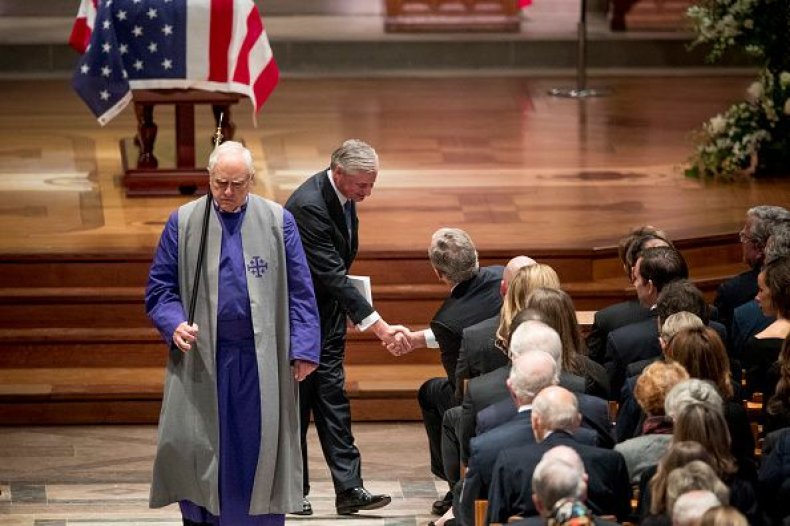 "It must be said that for a keenly intelligent statesman of stirring—almost unparalleled—private eloquence, public speaking was not exactly a strong suit," he said. "'Fluency in English,' President Bush once remarked, 'is not something that I'm often not accused of.'"
Even so, Meacham summarized, Bush's self-proclaimed life code was: "Tell the truth. Don't blame people. Be strong. Do your best. Try hard. Forgive. Stay the course."
Three of Bush's granddaughters read Bible passages during the service and his son George, the 43rd president of the United States, delivered the final eulogy.
"Through our tears, let us know the blessings of knowing and loving you, a great and noble man. The best father a son or daughter could have," George said as he held back tears. "And in our grief, let us smile knowing that dad is hugging Robin and holding Mom's hand again."
Following the funeral service, Bush's casket was flown to Texas, where the late president will be laid to rest at the Bush Presidential Library and Museum alongside his wife and their daughter, Robin.