George H.W. Bush Train: Houston Funeral, Route, Map, Time, Plans to Honor Late President
George H.W. Bush, the late 41st president of the U.S., will be laid to rest in College Station, Texas, on Thursday, alongside his wife, Barbara, and their daughter, Robin.
Before he is taken to his final resting place, there will be a private funeral service with about 1,200 guests at St. Martin's Episcopal Church in Houston at 10 a.m., ABC 13 reported.
The Union Pacific Locomotive 4141 will transport Bush to his final resting place in College Station on the grounds of the Bush. The facility announced on Thursday that the funeral train will leave Union Pacific's Westfield Auto Facility at 1 p.m. and should arrive at College Station across from Kyle Field at 3:25 p.m. The entire train ride should last about two and a half hours and the Westfield Auto Facility is not open to the public, according to the facility's statement.
The train is set to travel through Spring, Tomball, Magnolia and Navasota in Texas. It will be traveling slower than normal in each town but will not make any stops during the trip.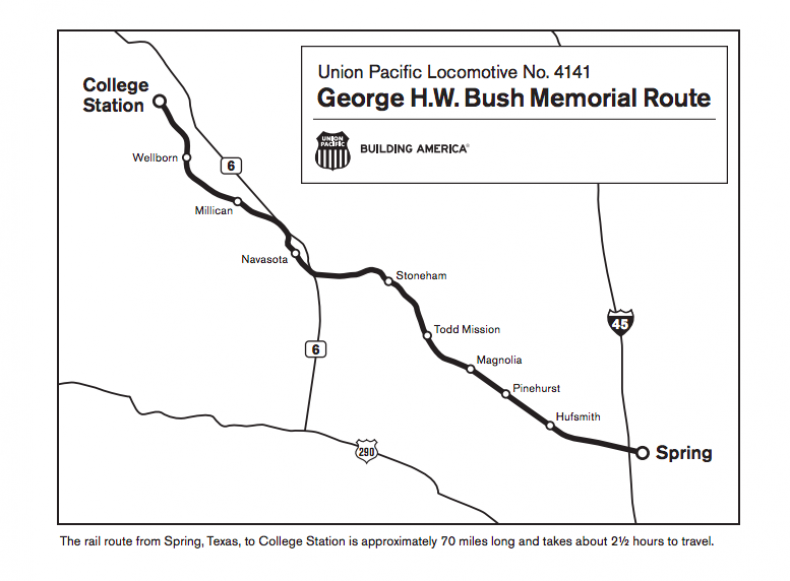 The United States Secret Service announced that there would be road closures starting at midnight on Thursday. The following roadways will be closed during the train ride: Wellborn Road, from University Drive to George Bush Drive; George Bush Drive, from Wellborn Road to Harvey Mitchell Parkway (FM-2818), and all streets leading to West Campus.
Spectators can watch the train pass by at three different locations at Texas A&M University. The map shows that spectators can view the train from Lot 62, the East side of Wellborn Rd., the South side of George Bush Dr. and between Wellborn Rd. and Penberthy Blvd.
The university's transportation services are also offering six different parking locations for visitors during the trip. The lots available for use are the university center garage, the central campus garage, lot 48, lot 55, Lot 54, Lot 47/51 and Lot 50, according to the map.
There are areas of the university that will remain closed during the ceremony. Here is a list of all the closed areas on the Texas A&M University campus:
1. West Campus
2. George Bush Dr. and Wellborn Rd.
3. Cain Garage
4. The Pedestrian Passageway
The president's body was lying in repose at the church on Wednesday until Thursday, where nearly 12,000 mourners came to pay their respects. President Donald Trump announced on Saturday there would be a day of mourning on Wednesday to honor the late president.