George H.W. Bush Is Now the Oldest U.S. President Ever at 94 Years Old
George H.W. Bush turned 94 Tuesday, and in the process, became the first former president to reach that age.
Bush celebrated his birthday in his home in Kennebunkport, Maine, with a "very low-key day with family, which, as you know, is perfections as he sees it," Bush family spokesman Jim McGrath told CNN.
He will be joined by former President Jimmy Carter in October when Carter turns 94, as well. Bush has been the oldest living president for more than a decade since Gerald Ford died at 93 in 2006.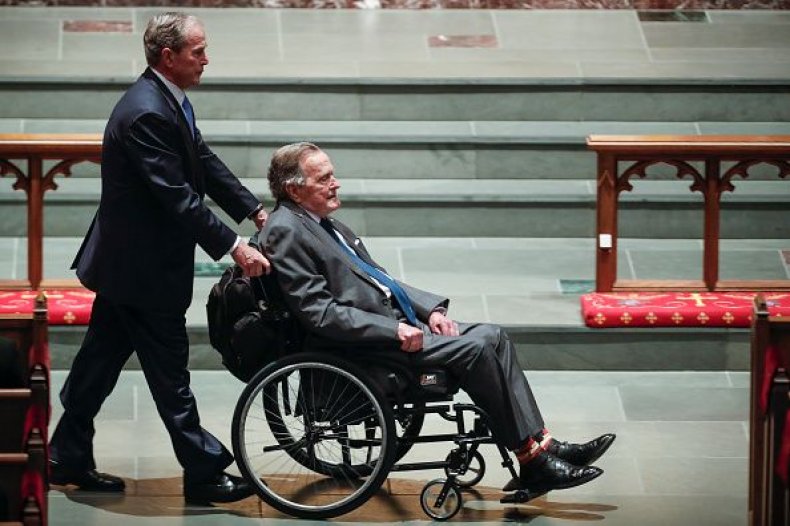 Bush has been hospitalized twice since his wife, Barbara, died in April at 92. In May, the former president went to the hospital for low blood pressure and fatigue. "The former president is awake and alert, and not in any discomfort," McGrath tweeted at the time. In April, Bush was hospitalized the day after his wife's funeral for an infection that spread to his blood. He was released after almost two weeks.
Despite his age, Bush has remained active. In 2014, for his 90th birthday, he went skydiving, as he had done for his 85th and 80th birthdays. "It's a wonderful day in Maine," he tweeted after landing. "In fact, nice enough for a parachute jump." Bush also threw the first pitch at a Houston Astros baseball game from his wheelchair in 2015 at 90 years old.
Near the end of his first and only term in office, Bush penned a letter that said, "I think I'll win- I'm convinced I'll win. But this little creeping thought comes to mind- if I don't win, I'll be a very happy guy," the note said, according to the Washington Post.
Bush added that he looked forward to "just blending in" after leaving office and "growing old with grace and kindness, and truly count my blessings."
"I'll be going to bed early every once in awhile; do something to help someone else; hold my grandchildren in my arms; look for the shellfish; take them fishing," he said.