George H.W. Bush's Final Words Were Expression of Love for His Son, George W. Bush
Former President George H.W. Bush's last words were an expression of love for his son and fellow former president George W. Bush, the New York Times reported.
As George H.W. Bush's condition declined on Friday at his home in a gated community in Houston, Texas, he was placed on speakerphone with his son, who was at his home in Dallas.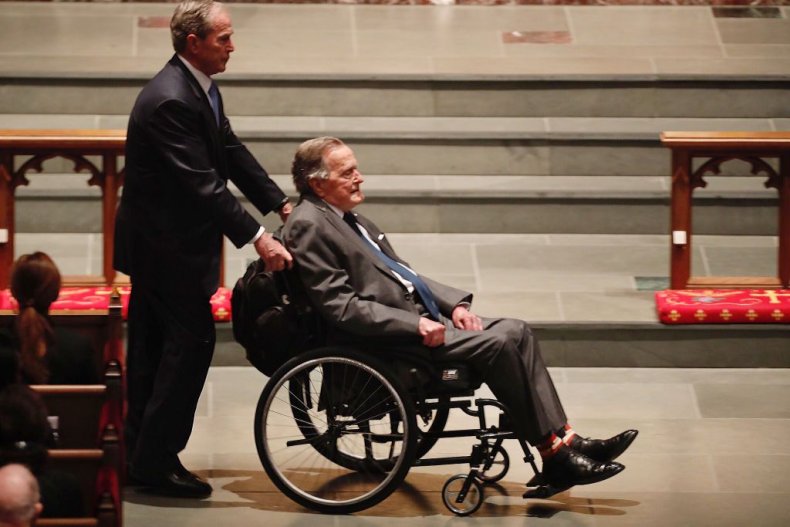 George W. Bush told him that he had been a "wonderful dad" and that he loved him.
"I love you, too," Bush told his son, according to the Times.
The words were Bush's last.
Bush's health had been declining for several days. He had not been able to get out of bed and had spent most of his time sleeping, Bush's friend and former secretary of state, James A. Baker, told the publication.
Baker, who aslo served as chief of staff for George H.W. Bush, visted the former president Friday.
He said that Bush's spirits seemed to have recovered Friday, but by evening he had lapsed.
He said that at one point Bush grew suddenly alert.
"Where are we going, Bake?" he asked.
"We're going to heaven," Baker answered.
"That's where I want to go," Bush said.
Baker was in the room when Bush died, along with friends, members of the former president's family, and a minister.
Bush, who served as 41st president, died at 10 p.m. Friday, Bush family spokesman Jim McGrath announced. He was 94 years old. His wife, Barabara Bush, had died in April, aged 92.
George H. W. Bush will lie in state next week ahead of a day of national mourning announced to take place on December 5, according the the BBC.
George W. Bush issued a statement, stating his father was "a man of the highest character and the best dad a son or daughter could ask for."
"Jeb, Neil, Marvin, Doro, and I are saddened to announce that after 94 remarkable years, our dear Dad has died," he said. "The entire Bush family is deeply grateful for 41's life and love, for the compassion of those who have cared and prayed for Dad, and for the condolences of our friends and fellow citizens."