George Lopez Pretends to Urinate on Donald Trump's Hollywood Walk of Fame Star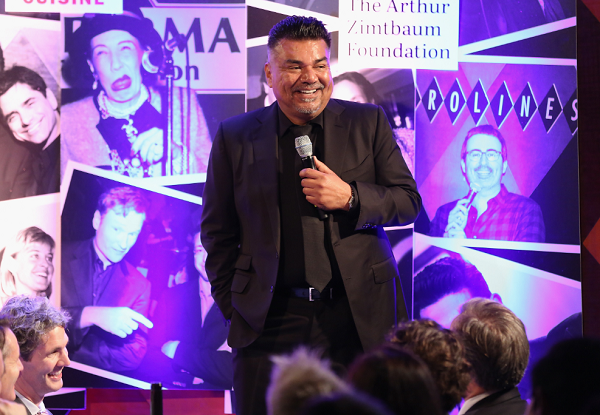 George Lopez has never played coy when it comes to his feelings towards President Donald Trump. He's ridiculed the 45th president's policies, criticized Trump's behavior and made Trump the punchline of his jokes during his stand-up comedy acts. For his latest stunt, Lopez pretended to urinate on Trump's star on the Hollywood Walk of Fame on Tuesday. In fact, in video captured by TMZ, folks who witnessed Lopez's latest act seemed to be entertained by it.
In the video, Lopez is seen whipping out a small bottle and unloading water on Trump's marker, as if he were using the bathroom. Once the bottle is empty, Lopez turns to walk away and says, "Alright, let's go," while witnesses on the scene cheer. See the video HERE.
The reaction was much more pleasant than the response Lopez received from audience members when he cracked on Trump during a gala in Denver, Colorado, in 2017. While performing at a benefit honoring the Barbara Davis Center for Diabetes, Lopez was asked to stop making jokes about Trump and was booed off stage by donators when he continued.
Lopez's fake urination on the Hollywood Walk of Fame isn't the first time Trump's star has been vandalized. The star was covered with #resist stickers accusing Trump of homophobia, misogyny, transphobia, corruption and racism, among other things, in June of last year. In October, someone placed a golden toilet right above the star with a sign that said, "Take A Trump."
Perhaps the most damage done to Trump's Hollywood star was when someone used a pickax to nearly destroy it just a month before the 2016 election. A man used the tool to smash the star, which essentially left it completely cracked and unreadable, according to a TMZ report.