'Fifth Beatle' George Martin Has Died, Aged 90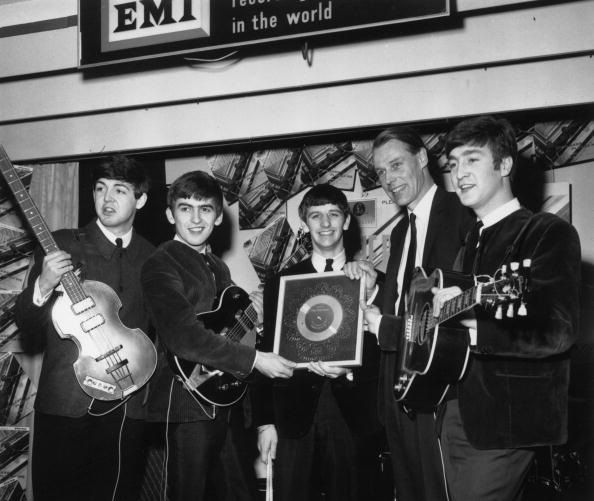 The death of legendary record producer George Martin, the man known as the "fifth Beatle," was announced on Twitter on Wednesday morning by the group's drummer, Ringo Starr, 75.
Starr wrote: "God bless George Martin peace and love to Judy and his family love Ringo and Barbara George will be missed." Another post, accompanied by a picture of the pop group with Martin, read: "Thank you for all your love and kindness."
Since the Beatles first found fame in the 1960s, there have been many pretenders vying for the right to call themselves the "fifth Beatle" but Martin is the only one with a credible claim. He first signed the group to a record contract in 1962, and produced the majority of the music they recorded over the next eight years from their first hit single "Love Me Do" to the more sophisticated sounds of albums such as Sgt. Pepper's Lonely Hearts Club Band and Abbey Road.
After the Beatles split in 1970, Martin continued to work with individual members on their solo projects, including Paul McCartney's 1973 hit "Live and Let Die" and Starr's 1970 album Sentimental Journey.
Although Martin's name will forever be linked to the Fab Four, his career continued long after the group's demise. He produced a total of 700 records across five decades, working with big-name artists such as Gerry and the Pacemakers, Kenny Rogers, and Celine Dion. In 1997, he topped the charts again—producing Elton John's bestselling version of "Candle in the Wind" to mark the death of Princess Diana.
Tributes are pouring in on Twitter from famous names such as Oasis star Liam Gallagher, who drew much of his inspiration from the Beatles, to U.K. Prime Minister David Cameron, all of them united in remembering a man who helped revolutionize the music industry.