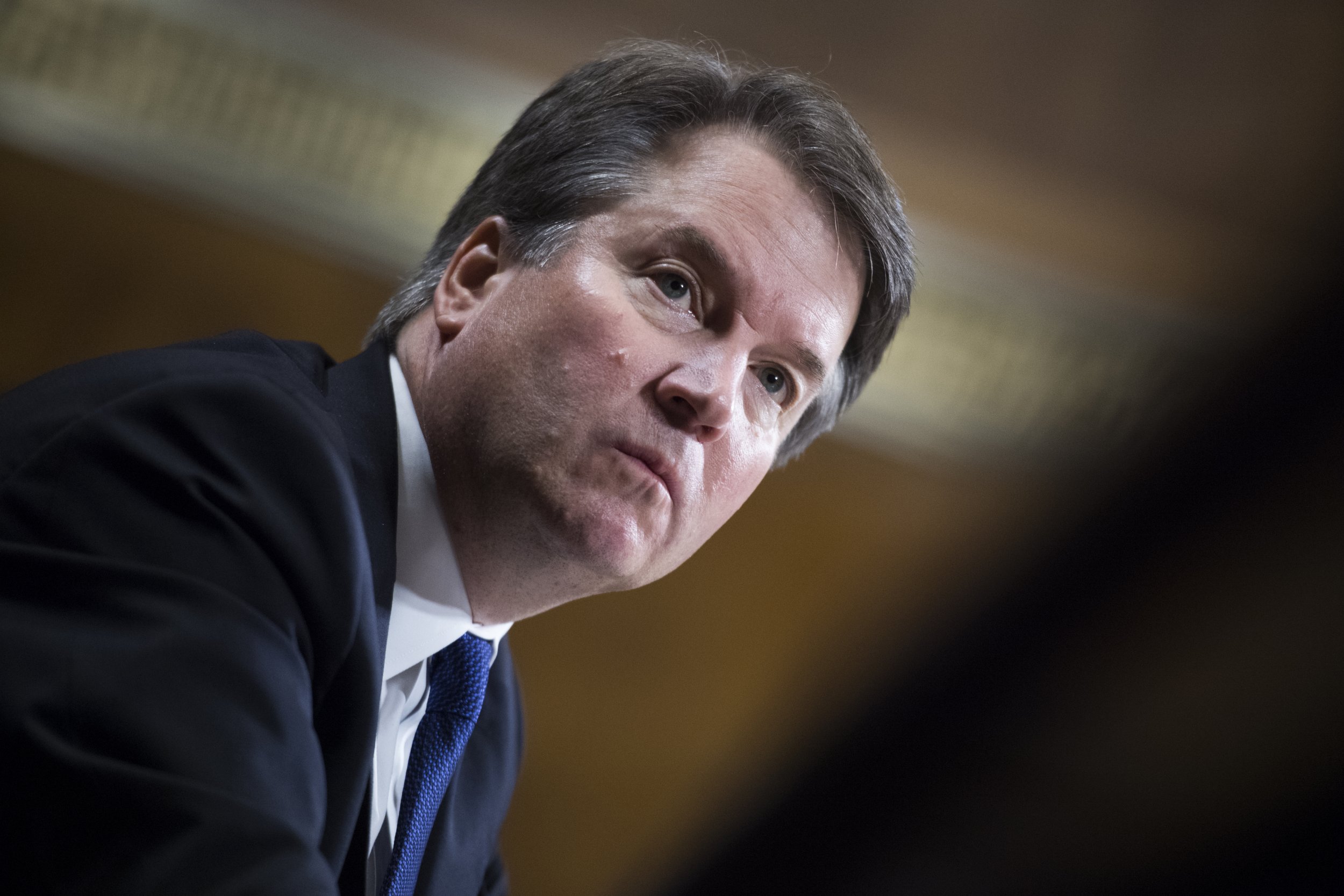 Mason for Survivors, a student-led advocacy group at George Mason University, has demanded that the university's law school rescind its invitation to Supreme Court Justice Brett Kavanaugh to teach at the school.
The group has been actively petitioning the school to rescind Kavanaugh's invitation to co-teach a summer course on the origins and creation of the U.S. Constitution in Runnymede, England, the location of the sealing of the Magna Carta. Along with voiding Kavanaugh's contract, the group demanded an apology from the school. Elijah Nichols, the media co-lead for the group, told Newsweek it "fully" believes its demands will be met.
"From meetings with student leaders, as well as Mason for Survivor allies, we've seen a great level of compliance," Nichols said. "As of now, the university is working on getting a town hall scheduled with the administrators that we and other students have asked for."
The petition, which used the hashtag "Cancel Kavanaugh" to give Twitter users an opportunity to weigh in, is about 400 signatures shy of its 2,500 signature goal.
While some Kavanaugh critics have targeted his policies, "the main problem we have with Kavanaugh is the allegations of sexual assault," Nichols told Newsweek. "His policy stances are a separate issue, but Mason for Survivors advocates for survivors and the allegations are what we are most concerned about."
George Mason University President Ángel Cabrera acknowledged the controversy surrounding Kavanaugh's teaching appointment but said the course, along with another taught overseas by Supreme Court Justice Neil Gorsuch, was part of the school's continued effort to have students taught by the "most influential legal experts in the nation.
"I respect the views of people who disagreed with Justice Kavanaugh's Senate confirmation due to questions raised about his sexual conduct in high school. But he was confirmed and is now a sitting justice," Cabrera said. "The law school has determined that the involvement of a U.S. Supreme Court justice contributes to making our law program uniquely valuable for our students."
Kavanaugh's Supreme Court confirmation was shrouded in controversy after Christine Blasey Ford came forward to accuse him of sexually assaulting her at a party when both were in high school, and it ended in a 50-48 vote. Many argued that the allegations made Kavanaugh unsuitable to serve on the country's highest court. George Mason Assistant Professor of Law Jennifer Mascott, who had clerked for Kavanaugh and will be co-teaching with him this summer, had defended his character.
During her testimony before the Senate Judiciary Committee last September, Mascott said Kavanaugh encouraged discussion among the law clerks and remained a close mentor to her in the years after her clerkship.
"The judge wanted to hear and consider all sides of an issue, apply the law fairly, and along the way help train us to bring more rigor and precision to our legal analysis—skills that have stayed with me throughout my career," Mascott said. "Now that I am a law professor, I view it as part of my job to pass along those skills to another generation of law students."
However controversial the decision to allow Kavanaugh to teach might be, Cabrera said it in no way affected the university's ongoing efforts to eradicate sexual violence from its campuses. He encouraged students to continue to speak out against sexual assault, and help the school move forward toward its goal of preventing it.
Cabrera said the course was already oversubscribed, and the university has not shown signs of pulling it. But Mason for Survivors has vowed to continue to fight.
"Mason for Survivors believes that every action must be done strategically," the group said, "and that means if we deem an act of civil disobedience necessary, we will go forward with it."