George Mason University Law Professor With COVID Antibodies Sues Over Vaccine Mandate
A George Mason University law professor with naturally acquired immunity from COVID-19 who filed a lawsuit this week against the university because of its demands he get a required COVID vaccine, now has an even bigger fight on his hands.
Antonin Scalia Law School Professor Todd Zywicki, through representation by the nonprofit New Civil Liberties Alliance, is demanding an exemption from a policy that requires university employees to get the COVID vaccine or face numerous penalties. His attorney Jenin Younes on Friday said his original complaint against the university will now be amended in light of the state of Virginia's requirement announced Thursday by Governor Ralph Northam, which will require state employees be vaccinated against the coronavirus or be tested every week.
The state joins a few other states, including New York and California, which have imposed similar mandates.
"The mandate is now coming from the governor as opposed to George Mason University—or actually it's coming from both—so we're re-evaluating the complaint. It shifts the analysis a bit," Younes told Newsweek Friday. "But what it boils down to is the refusal to recognize natural immunity."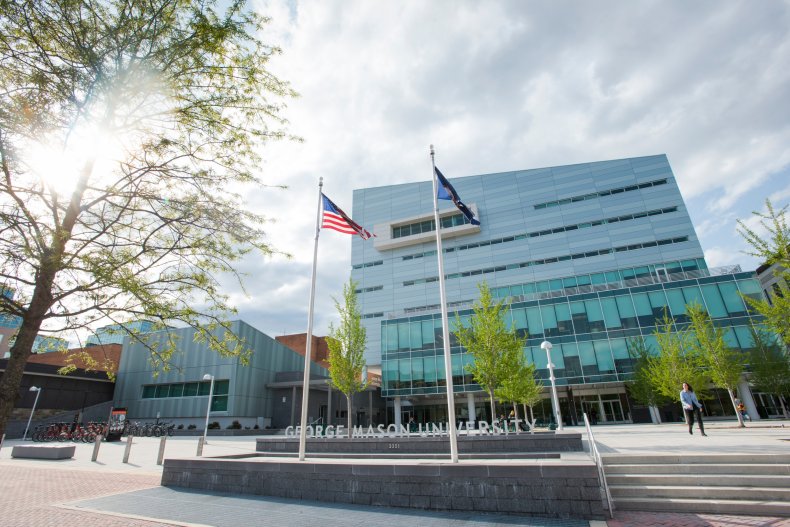 Regardless of whether the requirement is from the university or the state of Virginia, Zywicki, who recovered from a bout with COVID and has had six blood tests showing antibodies to the virus, won't agree to the policy. He requested a medical exemption based on his natural immunity and his doctor's statement that vaccinating him would violate the principle of medical necessity.
"For me it's pretty simple—I contracted COVID and recovered," Zywicki told Newsweek," noting his positive antibody tests over the past year that confirmed his antibody level is comparable to someone who has been vaccinated.
Zywicki was told by his doctor Hooman Noorchashm, an immunologist and Harvard University professor it wasn't medically necessary for him to get vaccinated after recovering from disease and that if he did, he had an elevated risk of adverse effects.
"I don't think the university has a right to unnecessarily threaten my bodily integrity simply so I can show up and do my job and teach my students," said Zywicki. "George Mason is forcing me to choose between serving my students on one hand and undergoing an unnecessary and potentially risky medical procedure on the other."
The complaint filed Tuesday by the NCLA alleges the public university's vaccine policy violates Zywicki's right to privacy and due process, among other claims. At issue is a policy requiring "all unvaccinated faculty and staff members, including those who can demonstrate natural immunity through a prior COVID-19 infection, to wear masks on campus, physically distance, and undergo frequent COVID-19 testing." The NCLA describes itself as a nonpartisan, nonprofit civil-rights organization and public interest law firm devoted to protecting constitutional freedoms and restoring civil liberties.
While one plausible solution is for Zywicki to work and teach from home, Younes said Zywicki doesn't see that as an acceptable long-term remedy.
"This is not a situation where he's guessing he had COVID. He's had many antibody tests—he's had a number of them as recently as June, which showed very robust immunity levels," Younes told Newsweek. "Where we're talking about following the science there's really no reason to treat him differently than other vaccinated colleagues."
The 37-page letter sent by the Alliance to university leaders included a lengthy statement by Noorchashm and a joint statement from Dr. Jay Bhattacharya of Stanford and Dr. Martin Kulldorff of Harvard, both agreeing Zywicki should be exempt. The two cited several studies to that point.
"If you have COVID and recover, then you have natural immunity, that's how the immune system works," Kulldorff, who has studied vaccines for many years, told Newsweek. "The vaccine works in the same way because it makes your immune system work without having the disease so having had the disease provides at least as good or better immunity than you'd have from the vaccine."
From a public health standpoint Kulldorff also noted that by forcing people who are already immune to take the vaccine could take the vaccine away from others who need it.
"There is a vaccine shortage worldwide so by forcing them that means there are less vaccines available for older people and others who need it in countries like Brazil, India and Africa," he said.
George Mason University's Interim Assistant Vice President of Communications Robin Rose Parker told Newsweek through a statement that the university does not comment on specific ongoing litigation and has no comment on the specifics of the lawsuit.
"As it relates generally, to the steps Mason is taking to protect its community against COVID-19, the decisions the University has made have been guided by currently available medical and scientific information and the guidance issued by federal and state public health agencies," the statement continued. "Based on this information and guidance, we believe that the steps we are taking will best protect the health and safety of the Mason community."