George Mason Students Protest to 'Put Brett Kavanaugh Out on the Street,' Call for SCOTUS Justice's Removal
A year after Brett Kavanaugh's confirmation to the Supreme Court, George Mason University students called for him to resign from his position at the university and be ousted from the bench.
On the one-year anniversary of Kavanaugh making his way onto the Supreme Court, which came after a contentious confirmation process, students rallied in Washington, D.C. On Sunday, they put pressure on university administrators and Congress.
"We're here today to tell Congress there's no place for predators on our courts ... and most importantly it's time to put Brett Kavanaugh out on the street," Cassidy Pollard, a member of Mason for Survivors, a student organization, said.
Students at George Mason, a public university in Fairfax, Virginia, previously pushed the administration to rescind an invitation to Kavanaugh to teach a summer course in England. The university stood by their decision to have Kavanaugh as an educator, explaining that having a Supreme Court justice involved in the law school was "uniquely valuable" for students.
During Sunday's rally, Pollard criticized George Mason for hiring Kavanaugh and allegedly paying him a large sum to teach at a time when adjunct faculty struggled financially.
Adjunct professors are hired on a part-time basis and are limited in the number of courses they can teach. At schools across the country, adjunct faculty members have spoken out about their lack of benefits and financial compensation, prompting some to form unions and earn collective bargaining rights at their higher education institution.
"They didn't just hire him, our former President Ángel Cabrera endorsed this and attempted to keep it secret," Pollard said.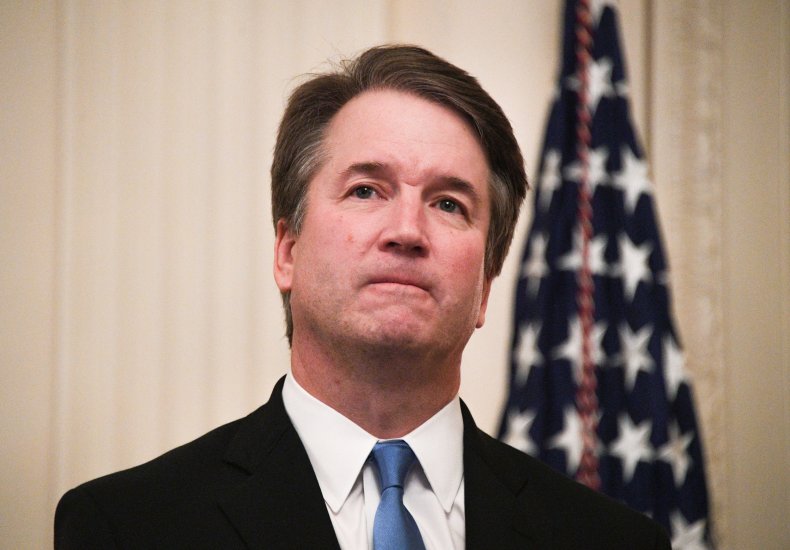 A Change.org petition, aimed at forcing the school to terminate and void Kavanaugh's contracts, was created in April and has since gathered more than 15,000 signatures. Along with breaking ties with the Supreme Court justice, Mason for Survivors demanded the release of all documents related to the Kavanaugh's hiring. It's unclear if George Mason has any plans to work with Kavanaugh again in the future.
Some demands were met by the school, including holding a Town Hall to discuss the situation. However, Mason 4 Survivors noted on the group's website that it would be releasing new demands on Wednesday. Newsweek reached out to Mason 4 Survivors and George Mason University but did not receive a response in time for publication.
After President Donald Trump nominated Kavanaugh to the Supreme Court, Dr. Christine Blasey Ford accused him of sexual assault. Ford claimed the incident occurred during a party in high school, a claim that Kavanaugh vehemently denied.
The accusation, however, prompted members of Congress and the public to call Kavanaugh an unsuitable fit for the Supreme Court. He was ultimately confirmed in a 50-48 vote.
Kavanaugh wasn't the only target of Sunday's rally and Pollard criticized the university for allowing Supreme Court Justice Neil Gorsuch to teach and Justice Clarence Thomas to visit. Gorsuch, who was confirmed to the Supreme Court in 2017, also taught a summer course, his being in Italy, and Thomas spoke at the university in 2018 to honor former Supreme Court Justice Antonin Scalia, the namesake of George Mason's law school.
Along with calling out the school for its connections to several Supreme Court justices, Pollard berated the institution for accepting donations from the Koch brothers and having inadequate Title IX policies.