George Michael Interviewed David Cassidy in 1985: They Got Too Drunk and Had to Try Again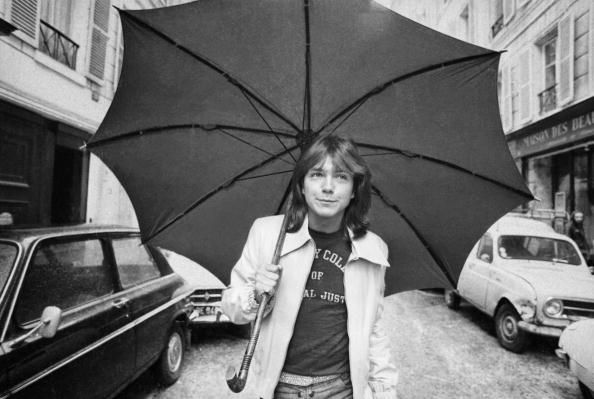 David Cassidy became one of the most popular teen idols of the 20th century, thanks to his starring role on The Partridge Family, which aired from 1970-1974, and to hit songs like "I Think I Love You." During that period, Cassidy recorded ten albums as a member of the The Partridge Family and five solo albums—an enormous amount of material by today's standards.
Though Cassidy's music was often dismissed as bubblegum pop, he had real talent. During the height of his stardom, his popularity was equated with that of the Beatles. Concerts, in massive arenas, sold out in minutes around the world, with fans literally going wild: At one 1973 show in Melbourne, Australia, the hysteria was such that there were calls for his deportation. More tragically, at a show at Wembley Stadium in 1974, a 14-year-old girl was trampled in a stampede—an event that deeply troubled Cassidy; he quit touring for many years, concentrating on recording.
A decade later, in 1985, he briefly revived his career with the single "The Last Kiss" (from the album Romance), which reached No. 6 on the U.K. charts. He had some help from '80s hearthrob George Michael, who provided backup vocals.
Then part of the duo Wham!, Michael was enjoying his own teen idol success thanks to hits like "Wake Me Up Before You Go-Go" and "Careless Whisper." He had always admired Cassidy, calling him a major influence growing up. Michael talked with Cassidy about the music business and more in a 1985 interview for the British celebrity, gossip and fashion magazine Ritz.
Cassidy died Tuesday at age 67, less than a year after Michael's death last Christmas.
The Ritz conversation took place at a restaurant in 1984, and things got off to a tipsy start. According to a note at the top of the article, Cassidy and Michaels drank a little too much and had to try again a week later at Cassidy's home. That might be amusing, if not for Cassidy's well documented battle with alcoholism, which he first spoke about publicly in 2008. He was arrested for driving under the influence in 2010, 2013 and 2014. (Michaels had his own substance abuse problems.)
The interview provides a window into Cassidy's post-Partridge Family career. It's also a deeply personal conversation between two pop stars from different generations who grappled with many of the same problems. You can read the full interview on the official David Cassidy website. In the meantime, a few things the Ritz story revealed about Cassidy:
His great success was difficult: "Most of my friends and people I grew up with didn't become popstars and famous. In a way, I felt embarrassed about it and I've always played my wealth down," Cassidy said. "I live in a very simple environment, I'm not a real flash person." But, he added, "in America being 21-years-old and a multi-millionaire that you'd made yourself—forget it. It was a joke. Nobody knew how to relate to it and I didn't either." Later in the interview, he added that "I look back on the times that I was in my early and middle 20s and I was a tragically wealthy and unhappy person."
Not again with The Partridge Family: "It's important for me this time around that people get a true sense of who I am as opposed to a commercial sense, because I became successful last time from a TV series," Cassidy said. "I have no intentions of doing anything like The Partridge Family ever again." It was difficult to separate himself, he added, from the image of his character, Keith Partridge, who was "this all-American good guy, who doesn't do anything wrong or use naughty words, and he's very safe and scrubs his teeth three times a day."
Being onstage and in New York City are like drugs: Cassidy talked about wanting to "be singing and performing on stage, and having that experience again. It becomes almost like a drug. When you go on tour, night after night, you come to expect it." Later, discussing London and New York he said that the latter "is such an intense city that it is almost like a drug. Once you get hooked on it as I have been, I need to go back there often to get a fix of it."
"The Last Kiss" was a high point: After having very little control over his music in the '70s, Cassidy relished the chance to be more involved. "In the case of 'The Last Kiss,' when I wrote it and when I'd finished it, I felt it was the best record I'd ever written. It's about something very real and important that actually happened to me."
He had a passion for horses: Cassidy was drawn to horses "since the time I can remember breathing," he told Michael. "They're wild buggers, but I do have a passion for it. I love the racing. If anyone asked me what I really wanted in the world, I would have to say the one thing that I want more than anything else, more than an Oscar or a quadruple platinum album and single, and 15 Grammys, would be to win the Kentucky Derby."
You can read the full interview on the official David Cassidy website.
George Michael Interviewed David Cassidy in 1985: They Got Too Drunk and Had to Try Again | Culture