In George Osborne, Britain Has a Driver For Engagement With China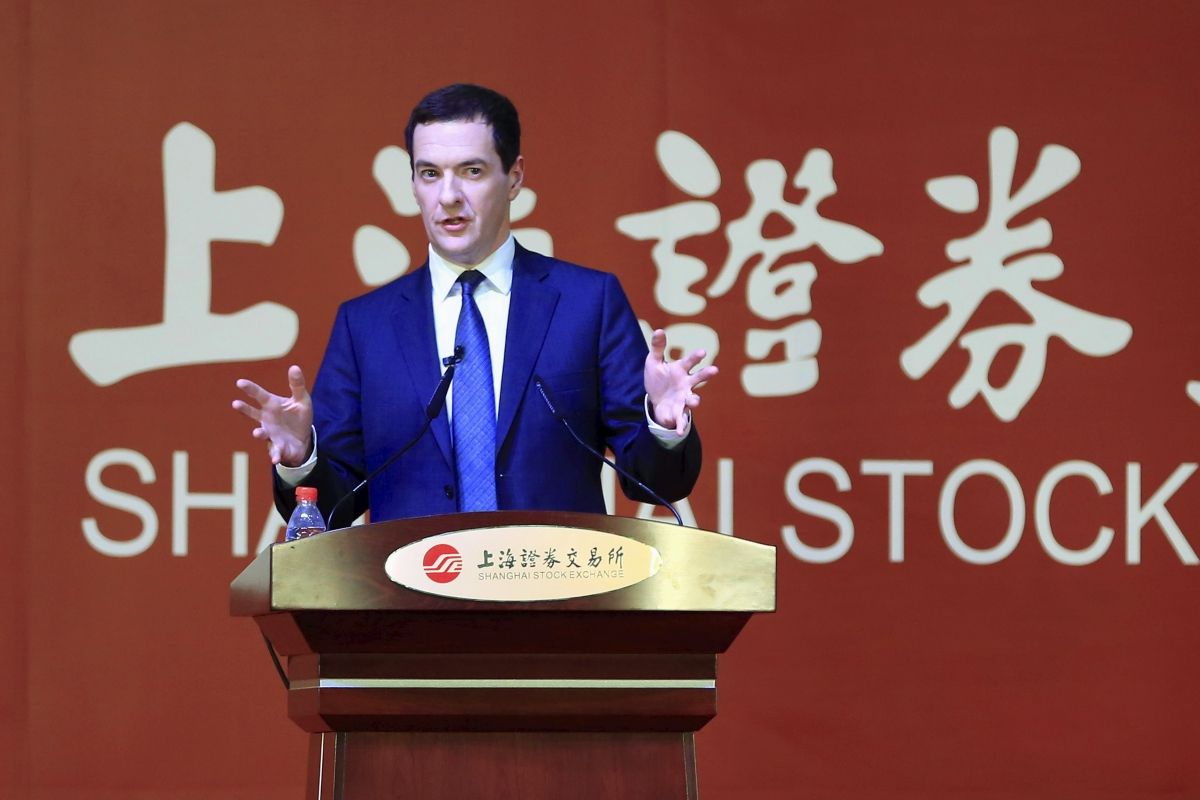 This article originally appeared on the Chatham House website.
If the 'golden age' of the UK-China relationship being heralded by President Xi Jinping's visit to London this week means anything, then it must be that the relationship will finally get classified where it belongs in the first rank in terms of importance. This is finally being reflected in the attention and interest of the most senior political figures in the British government.
One of the most striking aspects of the treatment and attention paid to UKChina relations over the last two decades has been how peripheral it has often been in London. The issue of Hong Kong meant up to 1997 there was a point of focus, and a reason for top level British politicians to know about Sino-British issues and remain involved in them. But with the reversion of the city to Chinese sovereignty that disappeared. Tony Blair only visited three times in his decade in power far outpaced by the almost annual visits of German chancellors and Gordon Brown only went once.
This is why Chancellor George Osborne's role and attitude are so significant. Almost uniquely among top figures since 1997, China seems to mean something to him beyond a large emerging economy and a few wistful thoughts about how things could be better. He betrays signs of actually having that rarest of attitudes from Britain's political elite towards China a consistent vision.
This can be seen by the fact that he is willing to take significant risks in order to show commitment to Beijing in order to try to get benefits for the UK. The decision to join the China-instigated and led Asia Infrastructure Investment Bank (AIIB) earlier this year is a case in point. Reportedly backed strongly by Osborne, it ruffled feathers with the US, but proved its worth when a number of other countries in the EU joined up too.
Related: What's Behind Washington's Tussle With China's Over China's Asia Bank?
Osborne's visit to the western Xinjiang province during his trip to China in September belongs in this bold category, but is less easy to defend. The dominant narrative of Osborne's approach to China is to play the Chinese somewhat literally at their own game, and focus remorselessly on economic benefits. Xinjiang matters very little to the UK in this realm, and so strayed from that strategic focus. But on almost every other issue, from possible investment in utilities and nuclear power plants, to promoting London as a RMB centre, Osborne has taken the relentless Chinese language in the last few decades about everything being dependent on good economic relations and outcomes and, as finance leader of the world's fifth-largest economy, has asked its second-biggest why the two don't do much better with each other in terms of trade and investment flows.
A fresh start
For sure, there are plenty of risks with this strategy. Public sentiment in the UK might be far less ready to tolerate Beiijng's harsh campaigns against human rights lawyers, dissidents and journalists than Osborne believes, and be less comfortable with delinking it from economic issues. And there might be far less largesse in terms of investment coming from Beijing's coffers than the current excitement would lead one to expect. But Osborne's approach is at least trying to do something about the largest structural fault of UKChina relations over the last two decades: their proclivity to be so stop-start, with no real consistency or predictability. Periods of intense collaboration promising so much, like the 2008 festivities to celebrate the Beijing Olympics held across the UK under the somewhat abruptly named brand 'China Now', tended to fritter out. Gestures like the change in recognition of China's sovereignty over Tibet in 2009 tended to get forgotten quickly.
Thus the Xi visit marks an important symbolic moment. It is the first in what is now properly a post-Hong Kong, post-colonial era for the UK and China, one that marks a moment of normalization. Osborne is attempting to create a simpler UK story about China to recognize this, one less plagued by history and the continuing ill feeling over the handback of Hong Kong. On both sides, most of the stalwarts from that era, at least in the world of officialdom and politics, have disappeared from the scene. (Poignantly, one of the most important players in this story, Geoffrey Howe, passed away at the start of October.)
The UK has craved a fresh start with China, and in Osborne it finally has a politician right at the top of the British system who seems to know what he thinks about China, what he wants from it and how to get it. He has given the UK and China the chance for a far better rapport and relationship with each other than the one that has prevailed over the last two decades.
Professor Kerry Brown is an associate fellow on the Asia Program at Chatham House and is based in Sydney.
In George Osborne, Britain Has a Driver For Engagement With China | Opinion