British Budget 2016: What The Experts Say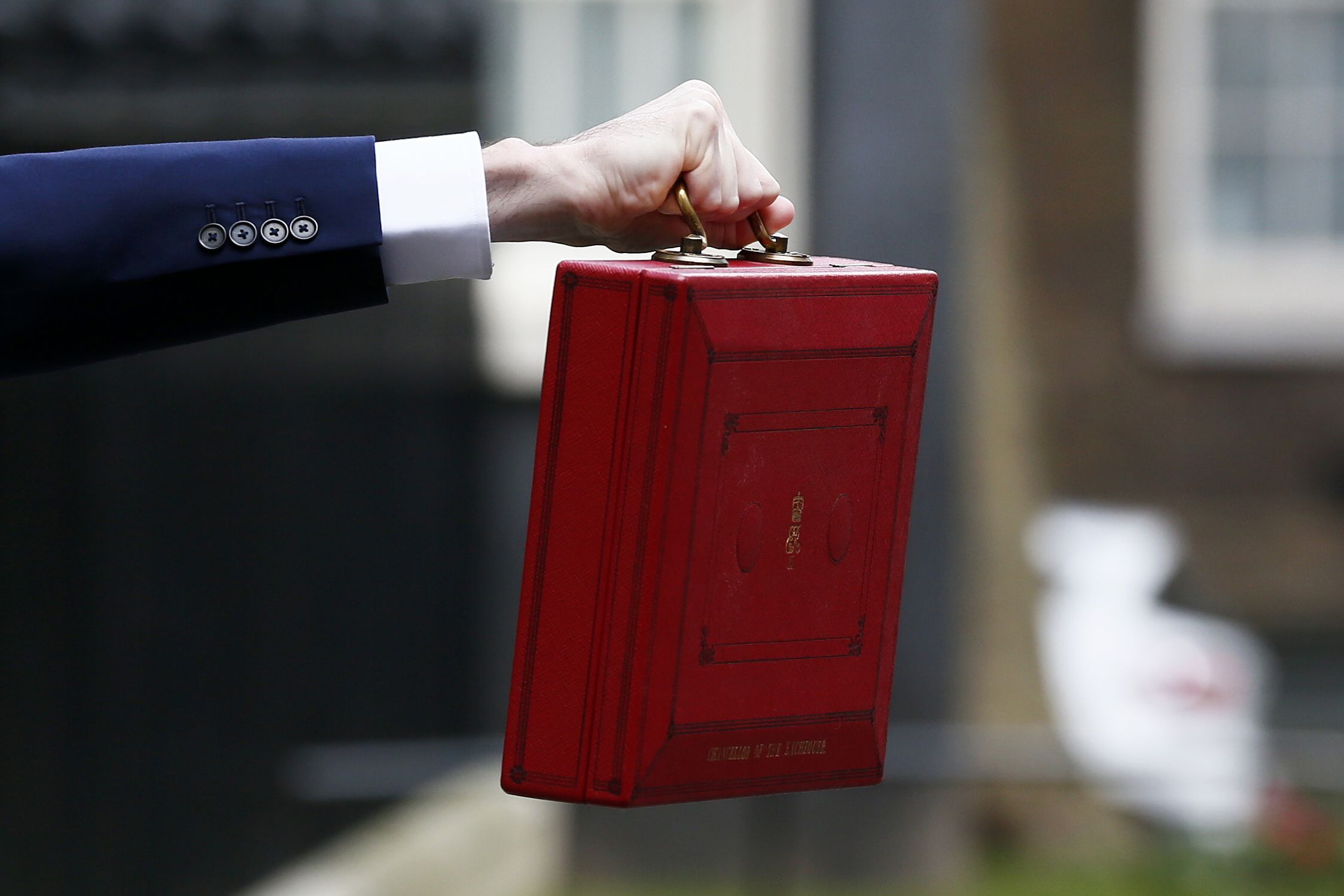 Britain's chancellor of the Exchequer, George Osborne, announced on Wednesday his eighth budget, against a difficult political and economic backdrop.
The Conservative Party, of which Osborne is a member, is divided ahead of the U.K.'s forthcoming EU membership referendum, scheduled for June 23. At the same time, the forecasts from Britain's independent Office for Budget Responsibility (OBR) were significantly less favorable than their last round of projections in November. "In the short time since our November forecast," the OBR said in its analysis of the budget, "economic developments have disappointed and the outlook for the economy and the public finances looks materially weaker."
The two factors conspired to mean Osborne delivered a largely cautious budget, steering clear of many game-changing new measures (the exception was the unexpected announcement of a levy on soft drinks—a so-called "sugar tax").
So did the chancellor prevail in the face of difficult economic circumstances, or was he clearing up his own mess? And will the changes leave the U.K. better or worse off? Newsweek asked a panel of experts for their impressions.
Learning From His Mistakes
Peter Kellner, president of the polling company YouGov
The big story in the budget is the cut in the growth forecasts for every year up to 2020. By that year, we now expect the economy to be £30 billion ($42 billion) smaller than we thought it would be last November
This has a devastating effect on public finances. The OBR that handed Osborne a £27 billion bonus in November is now taking back almost exactly double that; a penalty of £56 billion in this budget. Osborne is having to do a lot of creative things to end up with a budget surplus in 2020.
Osborne also seems to have learned his lesson from the "omnishambles" budget of 2012. Then he did something that was, economically, arguably defensible but politically highly controversial; the so-called "pasty tax" that simplified VAT on hot foods.
The economically and environmentally, the wise thing to do in this budget would have been to put up fuel duty, because fuel prices have come down and that would have given Osborne more flexibility.
But this is not the budget Osborne wanted to give. Coming less than a year after the general election, it was a big opportunity to make a big reforming budget. On fuel duty and pensions, he's given in to the pressure not to rock any boats ahead of the EU membership referendum. One of the big questions I have is: Will he do next year what he would like to have done this year, on areas like pensions reform and perhaps cutting the top rate of tax from 45 to 40p in the pound?
The question—to which I will know the answer in about 24 hours after our research is completed—is whether Osborne gets blamed for downgrading his economic forecasts, or whether he succeeds in blaming it on the global economy; there are two narratives you can apply.
Looking to the Next Generation
David Willetts, former Conservative cabinet minister, executive chair of the Resolution Foundation think tank and author of The Pinch
More and more parents worry that our kids are going to find it hard to get started on the housing ladder or to build up a pension. The budget shows the chancellor understands this anxiety. A budget has to have a theme, and this budget's theme was very clear indeed—"a budget that puts the next generation first."
That is why he is protecting them from the long-term illnesses caused by excess sugar consumption and putting more funding into our schools. But there is one specific measure in the budget today that should catch the imagination; that is his proposal for a lifetime savings account. It is a real boost for young people trying to save for a pension or just to buy a house.
Individuals can save up to £4,000 a year and get a £1,000 top-up from the government. That is a pretty strong incentive on its own. But there is a second attraction as well. The easier it is to get money out, the more likely people are to save in the first place. Unlike conventional pensions, this is money people can withdraw if they need to. That really enhances its appeal to young people—indeed, it is available to only the under-40s.
This budget was delivered against a backdrop of a slowing world economy, and therefore tax receipts were lower than the chancellor had hoped for before. That limited what he could do. But this imaginative move to put future generations at the heart of his budget argument could be the moment when worry about future generations came center stage.
Osborne's Misery Bingo
James Schneider, journalist and organizer at pro-Labour Party group Momentum
During this year's budget, I played "Osborne's Budget Misery Bingo." I was on the lookout for Osborne's stock phrases: "long-term economic plan," "Northern Powerhouse," "hard working families" and so on—and perhaps a few new ones, like "Midlands Engine" and "next generation." Needless to say, my bingo sheet was complete before Osborne sat down.
Osborne's self-imposed linguistic straightjacket mimics the self-imposed ideological straightjacket of his economic model. We can make a budget day game out of the former, but the latter is wrecking lives now and undermining Britain's economic future.
We know the results of Osborne's choices: Women bear the brunt of 81 percent of the cuts he's delivered over his eight budgets, a runaway housing crisis in many of our cities, lagging productivity and investment, and the poorest suffering the greatest proportional losses as wealth and income at the very top soars.
Osborne's sweet talk on sugar taxes will likely get all the headlines, but what we should be shouting from the front pages is that we need an alternative.
We should criticize Osborne for his callousness and clear disregard for basic notions of fairness or decency. But that's not enough. We have to understand the structural and ideological causes of his persistent failures: He hasn't reduced the debt to GDP ratio, our trade deficit is still a deficit, our industrial base hasn't recovered, and our economy is dangerously reliant on historically high levels of household debt that many economists think is unsustainable.
Osborne spoke 19 times about the "next generation," but he isn't building an economy for us. We need a credible economic strategy based on expanding our technological capacity, with high levels of investment, some of it state-led, and developing people's capacities within and control of the economy. Hopefully, John McDonnell, his Economic Advisory Board and Labour's Fiscal Credibility Rule will continue to build this alternative so more and more people not only see Osborne's economics for the failure they are but also see that another economics are possible.
Building the Northern Powerhouse
Alexandra Jones, chief executive of the Centre for Cities think tank
Strengthening transport links between Northern cities will be critical in helping them to realize their economic potential, so the confirmation in today's budget of £2 billion of investment for the "HS3" rail line and £75 million for the Trans-Pennine road tunnel is very welcome.
In particular, improving the Leeds-Manchester train link is much needed. It is one of the slowest big-city connections in the U.K., with Centre for Cities's research showing that trains on that route travel at less than half the speed of those between London and Milton Keynes. Faster rail links will better connect people to jobs and businesses to customers in both cities, which will be critical in boosting growth in their local economies.
Delivering these plans and this investment must now be a priority for the government, to ensure the improved train links operational early by 2022, as recommended by the government's infrastructure adviser Lord Adonis.
Making the most of this significant investment also requires improved transport links within the city regions, allowing people living outside the central city to access jobs across the wider area. Detailed transport decisions will be best taken at a local level, with Greater Manchester in a strong position to do this following its devolution deals. Ensuring that Leeds City Region also secures a deal, including taking on greater control over transport and planning, will be important so that both cities, and the Northern Powerhouse as a whole, can make the most of these major projects.
"Octopus Osborne" Is Back
David Kirkby, senior research fellow at Conservative think tank Bright Blue
The chancellor delivered, overall, a conservative budget. He was keen to remind the Commons of the "cocktail of risks" Britain's economy still faces—a gloomy picture to justify the continuing belt–tightening.
However he found some wiggle room and, as on previous occasions, used his eighth budget to announce new policies across a range of policy areas such as transport, education and savings. For example, funding for Crossrail 2 and High speed rail in the north, and new government support for savings. "Octopus Osborne," as he is nicknamed, ensures he has his tentacles in every policy area.
There were headline-grabbing, radical policies too. The Chancellor announced welcome funding for a gradual extension of state school hours. Longer hours are the norm in fee-paying schools, and there is evidence that the provision of extracurricular activities is associated with improved educational attainment and social skills.
Longer school hours may help parents to manage their work and family commitments, putting him on the side of "hard-working families."
There is always a surprise, of course. Something unexpected to make people test their assumptions about what Conservatives stand for. In the last budget, it was the introduction of the new National Living Wage. This year, it was a new "sugar levy" on sugary drinks. This is contentious. The evidence is still growing about how successful this could be in reducing alarming levels of childhood obesity.