George Papadopoulos Considers Running for Katie Hill's Congressional Seat
Following the announcement of Representative Katie Hill's resignation, former Donald Trump campaign aide, George Papadopoulos—who pleaded guilty in the special counsel investigation and unwittingly set the Russia investigation into motion—said he is considering "very seriously" of running for her seat, reports Los Angeles Magazine.
Hill resigned on Sunday surrounded by allegations of inappropriate relationships with staffers and a House Ethics Committee investigation.
As Hill tweeted "To every girl and woman - to everyone who believes in this fight - this isn't over," Papadapoulos took to Twitter, as well.
"I'm smelling blood in the water now that Katie Hill has resigned. California's 25th congressional district is wide open for the taking. Someone has to step up. I love my state too much to see it run down by candidates like Hill. All talk, no action, and a bunch of sell outs," he said.
Papadopoulos was charged by Special Counsel Robert Mueller with lying to FBI agents about his contacts with Joseph Mifsud, a London-based professor who claimed he had "dirt" on Hillary Clinton in the form of thousands of emails.
Mueller's office outlined how during the 2016 campaign, Papadopoulos tried to connect campaign officials with Russians. He pleaded guilty in October 2017 and served 12 days of his 14-day prison sentence in late 2018.
Since leaving prison, Papadopoulos published a book, Deep State Target: How I Got Caught in the Crosshairs of the Plot to Bring Down President Trump, which the publisher, Diversion Books, describes as "the only firsthand account that proves the attempted sabotage of Donald Trump's presidential campaign by American and international intelligence services."
President Trump tweeted his well wishes to Papadopoulos on the book.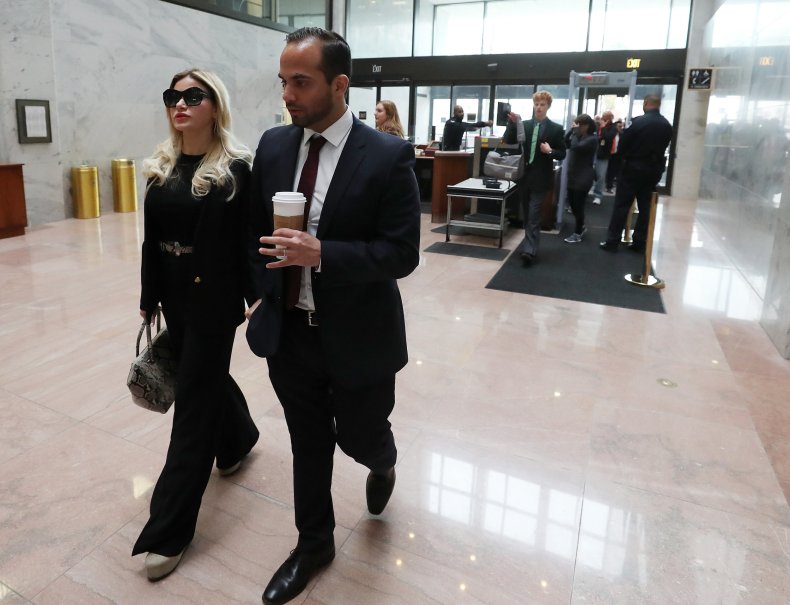 A source said he officially plans to announce and file his candidacy for Hill's seat in the 25th district on Wednesday. He will run in the regular election and a special election, if Governor Gavin Newsom orders one. He would run as a Republican.
While some of his supporters on Twitter support the run, others are wary of his past connections to the Trump administration and felony conviction.
Three other candidates were already running for Hill's seat: Angela Underwood Jacobs, a Republican city councilwoman from Lancaster, State Assemblywoman Christy Smith, a Democrat, and David Rudnick, a business owner and Democrat.
There may be increased Republican interest in the 25th district now, since Hill defeated a Republican in 2018, former Representative Steve Knight. According to a Facebook post, Knight has implied he may run again.
Republicans in California have not gained any seats in the House since 1998.