George Papadopoulos Blames Donald Trump for Lying to the FBI During Russia Investigation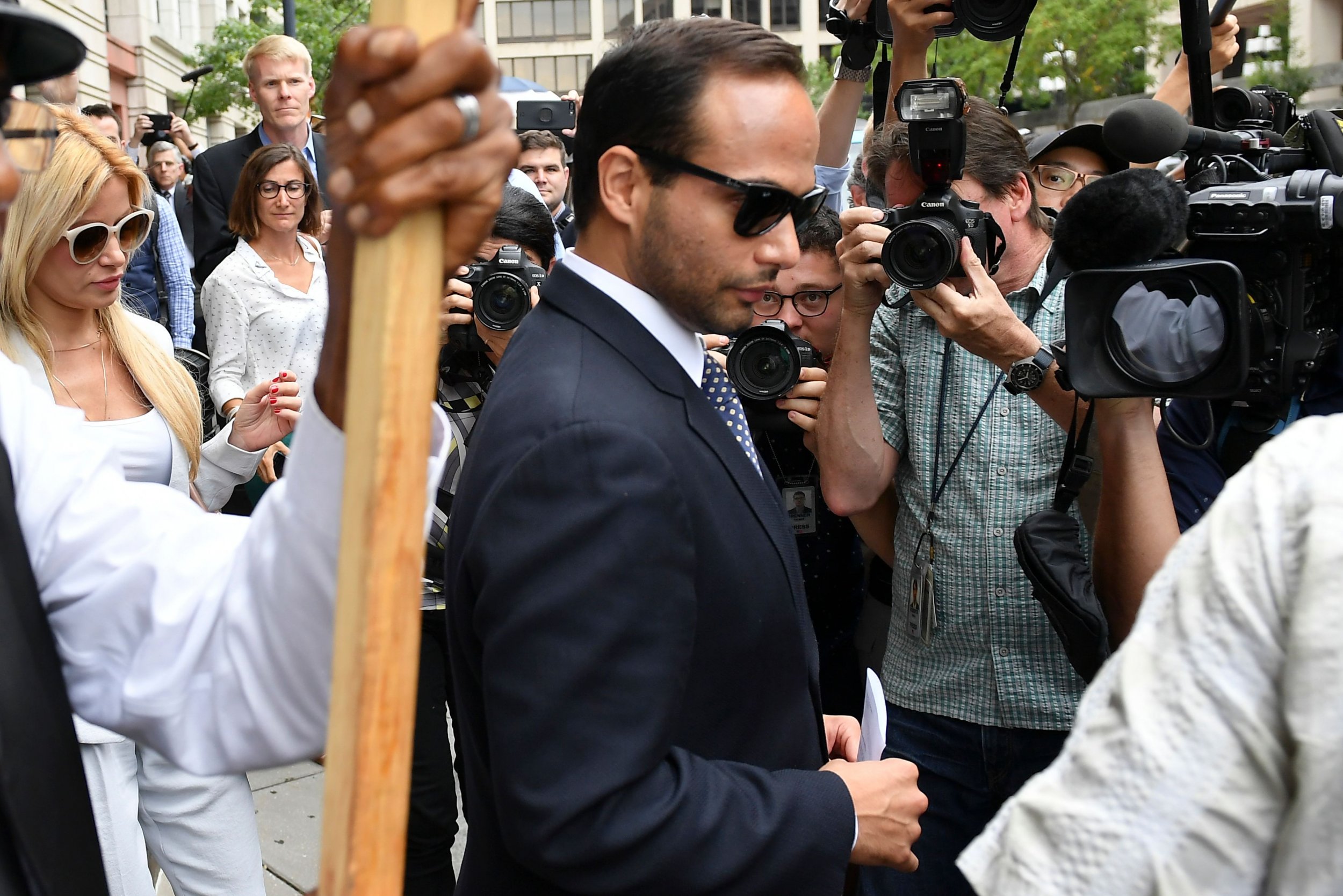 Former Trump campaign foreign policy adviser George Papadopoulos was sentenced to 14 days in prison Friday for lying to the FBI. But before he was sentenced, his lawyer said that Papadopoulos did not tell the truth, in part, because President Donald Trump called special counsel Robert Mueller's investigation "fake news."
Trump's characterization of the probe as fake was one of the motivating factors for Papadopoulos to lie, the lawyer, Thomas Breen, told the federal judge in Washington, D.C., according to The Washington Post.
Trump "hindered this investigation more than George Papadopoulos ever could" by launching a "fake news campaign," Breen said, in appealing to the judge for a more lenient sentence for his client.
"The president of the United States and commander-in-chief told the world this is fake news and a witch hunt," Breen continued, seeming to throw Trump under the bus.
Breen said Trump made such remarks on January 20, 2017, and that a week later FBI agents interviewed Papadopoulos about his Russian contacts. "That's the mindset going in there," Breen said.
Papadopoulos was the first to plead guilty in Mueller's investigation into Russian interference and possible collusion with the Trump campaign in the 2016 presidential election. His case was the first to reveal that a Trump campaign member knew about Russia's efforts to meddle in the election as it was happening.
According to an indictment earlier this summer, Papadopoulos in April 2016 learned from a professor that Russian officials had "dirt" on Hillary Clinton via thousands of emails, the same month that Russian intelligence stole emails from Clinton's campaign and the Democrats. Papadopoulos then attempted to set a meeting up between presidential candidate Trump and Russian President Vladimir Putin through his connection with the professor Joseph Mifsud. Papadopoulos admitted to lying about his contacts last year.
Prosecutors blamed Papadopoulos's lies for a missed opportunity for the FBI to interview, detain, or arrest Mifsud during his stay in the U.S.
Papadopoulos is the first former Trump campaign member to receive a sentence. On Friday, he expressed remorse over failing to tell the truth. Mueller's team asked for an up to six-month prison sentence for Papadopoulos, while defense attorneys requested probation.
Trump as of late afternoon Friday had not tweeted or stated anything in regard to his former campaign adviser.
"Fake news" is one of Trump's most commonly uttered phrases, especially when critical reports or events emerge involving him.