George RR Martin Making 'Significant' Progress on 'Winds of Winter' Book
Winter is coming, according to George RR Martin. The Game of Thrones author shared some good news on Wednesday about his upcoming novel, The Winds of Winter. He is hopeful that the latest installment to the A Song of Ice and Fire book series—which was adapted for TV as HBO's Game of Thrones, perhaps you've heard of it—will be complete by 2021.
"I have to confess, after half a year of pandemic, I am showing signs of cabin fever. If nothing else, the enforced isolation has helped me write," he tweeted on Wednesday. "I am spending long hours every day on The Winds of Winter, and making steady progress." The 71-year-old writer also included a link to his most recent blog post.
Martin appears to be working at a remarkable pace, writing new pages every day. "I finished a new chapter yesterday, another one three days ago, another one the previous week. But no, this does not mean that the book will be finished tomorrow or published next week," he wrote in his blog post, which was published on Tuesday. "It's going to be a huge book, and I still have a long way to go."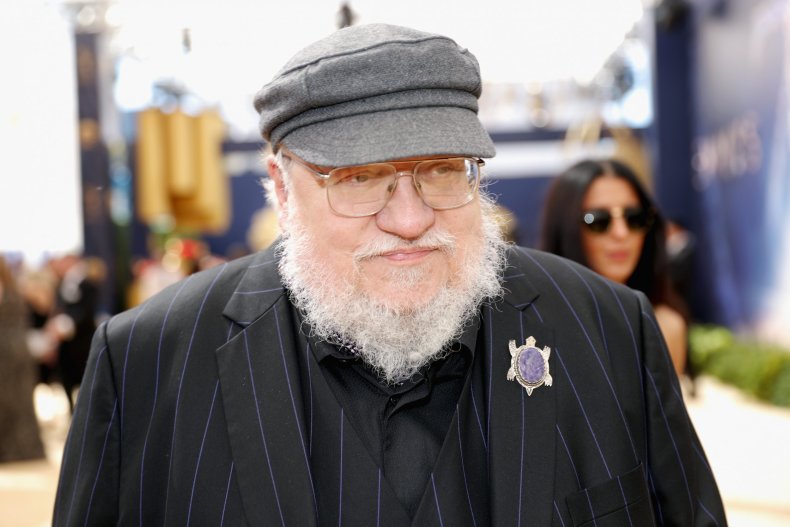 "I will be dropping back into Braavos next week," he said, referencing a region in the book series' fictional realm. "I have bad days, which get me down, and good days, which lift me up, but all in all I am pleased with the way things are doing." Martin said he most recently spent time with Song of Ice and Fire characters Cersei, Asha, Tyrion, Ser Barristan and Areo Hotah when writing.
The critically acclaimed author even teased a plot point involving fan favorite: Arya Stark. "Now you will have to excuse me. Arya is calling. I think she means to kill someone," he quipped at the very end.
He mentioned elsewhere in his post that he's hopeful that the coronavirus pandemic will be over next year, and that his penultimate Song of Ice and Fire book will be published in 2021 as well. Whenever it arrives, it will be the first book in the fantasy series in several years. So far, Martin's series consists of A Game of Thrones (1996), A Clash of Kings (1998), A Storm of Swords (2000), A Feast for Crows (2005) and A Dance with Dragons (2011). Allegedly following The Winds of Winter will be A Dream of Spring.
Fans of the books likely already have some idea of how the sprawling story will wrap up, because of HBO's Game of Thrones. The blockbuster series was practically inescapable during its final few seasons, which proved to be quite controversial. Despite becoming one of the most awarded series in Emmys history during its eight-season tenure stretching from 2011 to 2019, the show drew plenty of complaints from fans and critics as it came to a close. Folks took issue with the pacing of the show in its final couple of seasons, and with the way that certain characters were written.
Hopefully, fans will be happier with the Winds of Winter novel, whenever it does get published.