A Song of Ice and Fire author George R.R. Martin has consulted on a video game, rumored to be from Sekiro: Shadows Die Twice and Bloodborne director Hidetaka Miyazaki.
"I'm still here, and I'm still busy," Martin wrote in a Monday blog post, before listing his projects after the conclusion of HBO's Game of Thrones. "I've consulted on a video game out of Japan."
While Martin offered no details about the game, his brief description of the project fits perfectly with a rumored in-development game described by YouTube channel Spawn Wave in March.
In the video, Spawn Wave host Jon Downey describes rumors surrounding two new games from developer FromSoftware, who created the medieval dark fantasy Dark Souls action RPG series. One of the games coming from the developer is rumored to be a sequel to its 2015 gothic horror game Bloodborne. The other is something radically new, as different from previous Miyazaki game as Sekiro was from the Souls formula. But there was one part of the game sources described to Spawn Wave that raised eyebrows.
"The part I have a hard time believing, because it sounds a bit crazy, is that George R.R. Martin is part of this project," Spawn Wave says in the video. "His job is going to be realizing the world of the game, or creating the world that you will be playing through."
Little else is known about the game, except that it will be an open-world experience, which makes it a radical departure from the intensely curated Souls, Bloodborne and Sekiro, which take place on sprawling, Metroidvania-esque maps, but allow for only minor divergences from the main narrative path.
"You'll be dropped in and the world will have a bunch of kingdoms, essentially, around you. And you decide which one you'd like to go to. When you get there you of course have a boss or a higher up or a prince or whatnot, who you defeat, and then you take their ability and add it to your arsenal. Think of Mega Man, for example."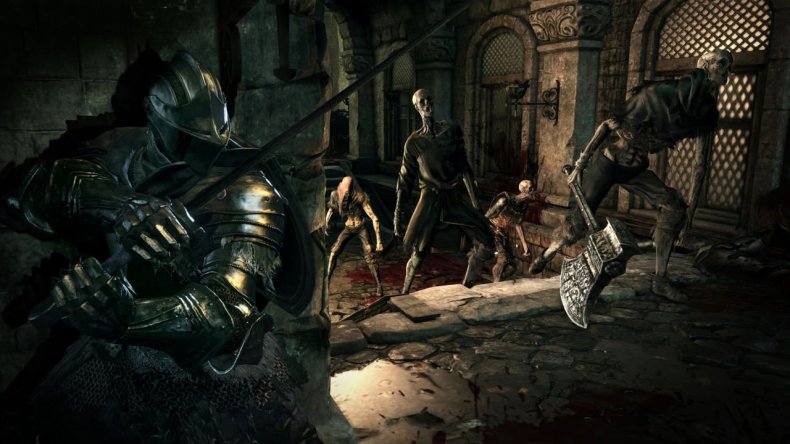 While Spawn Wave describes Martin as "writing" the game, Martin's description suggests the fantasy and science fiction author was more responsible for worldbuilding than specific in-game dialogue.
Through its own source, Gematsu confirmed the project is an open-world collaboration between Martin and Miyazaki. Known internally as "GR," an acronym for the unannounced full title, the game will include horse riding. An anonymous claimed leaker shared more possible details on 4Chan, naming the game Great Rune and describing it as "Norse themed," with frost giants and draugr.
The new collaboration between FromSoftware and Martin is expected to be announced at Microsoft's E3 press conference on Sunday, June 9.