George Santos Is 'Bulletproof' After Report He Performed in Drag: Bannon
Former White House advisor Steve Bannon is the latest to pile on embattled New York Congressman George Santos following reports that he performed in drag while living in Brazil over a decade ago.
On Wednesday, journalist Marisa Kabas tweeted that Santos was an amateur drag queen named "Kitara Revache" 15 years ago. A photo included in the tweet allegedly shows Santos dressed in drag alongside drag queen Eula Rochard.
Rochard, who told Kabas she was friends with Santos when he lived near Rio, said everyone knew him as Anthony and "never George." The photo was from a 2008 drag show at Icaraí Beach, Rochard added.
"The Talented Miss Kitara," Bannon wrote on the social platform Gettr. "George Santos just became bulletproof...introducing the First Brazilian American Drag Queen."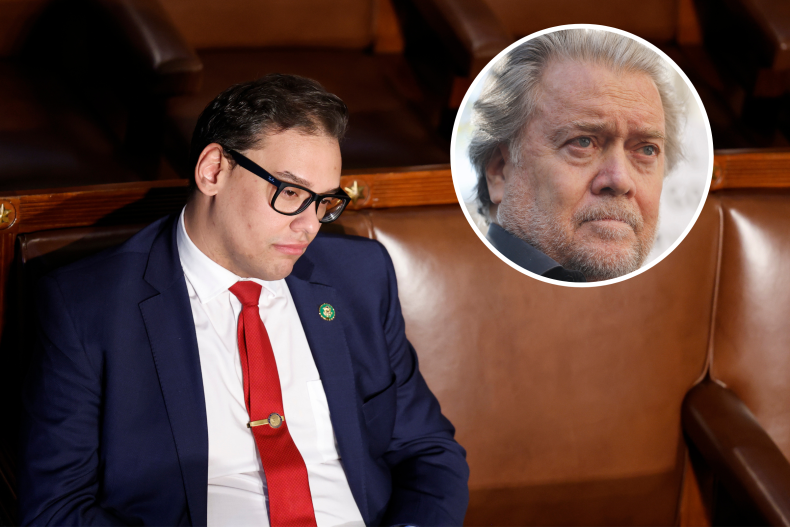 Santos addressed the newest speculation Thursday on Twitter, defending his past as he has done with a litany of numerous other past embellishments.
"The most recent obsession from the media claiming that I am a drag Queen or 'performed' as a drag Queen is categorically false," Santos tweeted. "The media continues to make outrageous claims about my life while I am working to deliver results. I will not be distracted nor fazed by this."
Rochard, 58, told Reuters she first befriended Santos when he was allegedly cross-dressing in 2005 at the first gay pride parade in Niteroi, a suburb of Rio de Janeiro.
An unnamed source from Niteroi who requested anonymity told Reuters that she also knew Santos and that he aspired to be Miss Gay Rio de Janeiro.
Aside from Bannon, most Republicans have remained quiet so far in regard to the new Santos allegations. A focus on drag queens and their place in American society has recently escalated among conservatives.
In November, Republican state Representative Tony Tinderholt of Texas appointed Jake Neidert, a self-described Christian nationalist who previously called for killing drag show attendees, as the legislative director at his office.
The Texas Tribune reported that Neidert, 22, was hired to focus on anti-trans legislation expected to be taken up by the state's legislature in 2023.
Tennessee Republicans in November introduced two bills in the state legislature, in an effort to ban gender-affirming care for children in addition to public drag performances in the state. State Senate Majority Leader Jack Johnson sponsored both bills to, as he stated, "preserve Tennessee conservative values."
Some mayors, like one in Missouri, caused protests after adjusting age requirements for drag show attendees based on the content he deemed was "maybe" in violation of city ordinances, along with state and federal guidelines.
Newsweek reached out to Santos for comment.