George Santos Claims Nobody Pressured Him Into Stepping Off Committees
George Santos has recused himself from two House committees, yet congressional Democrats are asking what it will take for him to leave Congress entirely.
Santos on Tuesday told colleagues during a closed-door conference that he would temporarily relinquish his roles on the House Small Business and House Science, Space and Technology committees pending an ongoing ethics investigation—two seats he was appointed to by House Speaker Kevin McCarthy.
ABC News reporter Gabe Ferris tweeted that he asked Santos if it was his decision to leave both committees. Santos reportedly replied by calling his questions accusatory.
"Nobody's pressuring me to do absolutely anything," Santos told him.
Axios reported that McCarthy said that he and Santos discussed Santos stepping down on Monday.
"I think it was an appropriate decision that, until he can clear everything up, he's off of committees right now," McCarthy said.
House Democrats wasted no time attacking Santos.
"Why are House Republicans continuing to coddle serial fraudster George Santos?" tweeted House Minority Leader Hakeem Jeffries.
"Why stop there?" tweeted Democratic New York Congressman Ritchie Torres. "George Santos should resign from Congress."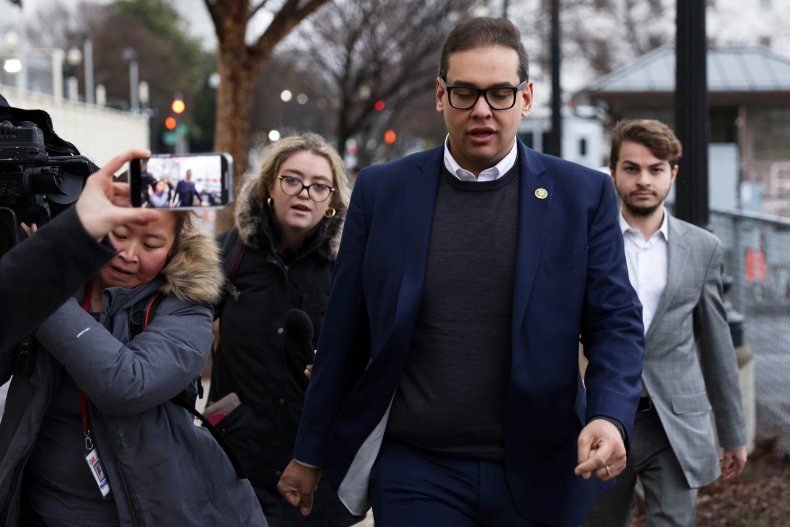 Another New York Democrat, Dan Goldman of the state's 10th District, echoed calls for Santos' resignation.
"George Santos defrauded the voters to become a member of Congress," Goldman tweeted. "If he is unfit to serve on House committees, he is unfit to serve in Congress. There are no appropriate half-measures."
The decision is not expected by Santos to be permanent, according to at least one Republican representative.
"It sounds to me like it's temporary....I think until there's a level of what he thinks the issues he's a distraction from are over with," Texas Representative Roger Williams, chair of the Small Business Committee, told Axios.
"[Until] this situation is sorted out and the ethics investigations are complete, I think it's the right decision," New York Representative Mike Lawler, a Republican who has called for Santos' resignation, told Axios.
Georgia Representative Marjorie Taylor Greene told the Associated Press that Santos "referenced the drama and everything surrounding the situation and he just felt like it was the appropriate thing to do."
"I think it was the appropriate thing to do and I was proud of him for getting up and doing this," Oklahoma Representative Tom Cole told the AP.
"Like all of my colleagues, particularly in New York state, I supported George Santos as the nominee and the people of his district voted to elect him....Ultimately, voters decide and I'm very proud that in New York state we flipped five districts to help deliver us the majority, and ultimately voters make this decision about who they elect to Congress," New York Representative Elise Stefanik told CNN's Manu Raju Tuesday following Santos' announcement.
A Newsday/Siena College poll published Tuesday showed that 78 percent of all of Santos' constituents in New York's 3rd Congressional District want him to resign. He was viewed favorably by only 7 percent of respondents.