George Santos Finally Lands in House Ethics Committee's Hot Seat
Embattled GOP Representative George Santos could soon be the focus of a House Ethics Committee investigation, House Speaker Kevin McCarthy confirmed on Tuesday.
Asked if the panel is launching a probe into Santos, McCarthy told reporters on Capitol Hill, "Yes." He added, "Ethics is moving through, and if Ethics finds something, we'll take action."
It has been reported that the committee was looking into some of the multiple allegations against the freshman congressman from New York, but there have not been any announcements or confirmations of an official investigation. McCarthy later clarified that there have been complaints about Santos but there is no formal probe at this time. Newsweek reached out to the House Ethics Committee for comment.
Santos, who was elected to represent parts of Long Island in this past November's midterms, has faced fierce criticism and calls for his removal after he was caught making various lies, including fabrications about his education, work experience, personal life, and family connections to 9/11 and the Holocaust. He is also facing questions about his campaign finances.
In response, New York Republicans and his constituents have demanded that he resign.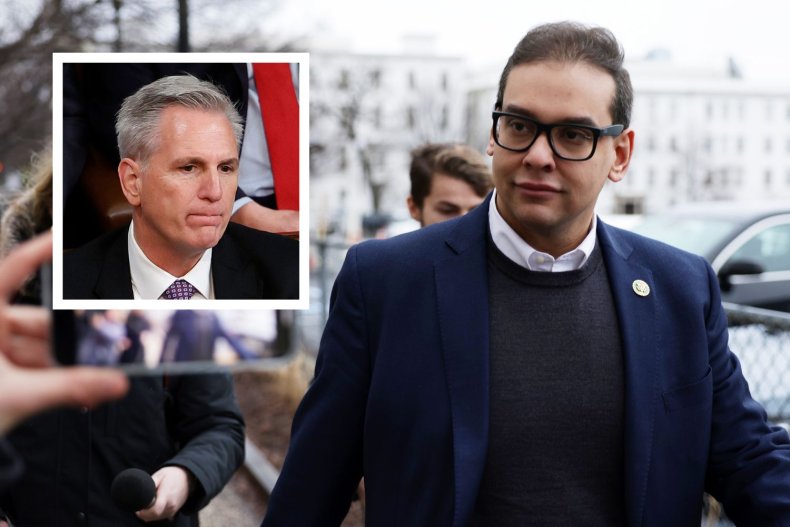 On Tuesday, McCarthy said that he had spoken to Santos about the situation and that they had decided it was "best at this moment" for him to recuse himself from committee assignments.
"I think that was the right decision," the speaker said.
Last week, Santos said he would voluntarily step down from his positions on the House's Science, Space and Technology Committee and the Small Business Committee. He also said he expected his name to be cleared "because I have nothing to hide."
Nassau County GOP Chairman Joseph Cairo has said he doesn't think Santos has a place with the county's Republican Committee, "nor should he serve in public service or as an elected official."
"He's not welcome here at Republican headquarters for meetings or at any of our events," Cairo said.
The news comes ahead of Tuesday's State of the Union address by President Joe Biden, which Santos is expected to attend along with a guest, a Democrat and former firefighter who once ran for Santos' district.
Michael Weinstock told WABC-TV in New York that he had gone "back and forth" about Santos' invitation but said he felt it was a "special opportunity" to draw attention to 9/11 first responders' health problems.
Weinstock, who suffers from a neurological condition related to his time as a firefighter, told The New York Times, "I'm cautiously optimistic that I'll be able to stay focused enough on the issue of 9/11 responders receiving the health care that they need without being sullied by George Santos."
Update, 2/07/23, 2:01 p.m. ET: This story was updated to include House Speaker Kevin McCarthy's clarification about a potential Ethics Committee probe into George Santos.