George Santos Fraudulent Signature Could Be Final Nail in Coffin
George Santos has been accused of listing a man as his campaign financier against his wishes and using his signature without consent, in the latest controversy to hit the New York House Republican.
On Tuesday Santos filed an updated campaign finance report with the Federal Election Commission, in which Thomas Datwyler, an experienced campaign financial consultant, was listed as his new treasurer, with the filing signed with his name.
However, speaking to ABC News Datwyler's attorney, Derek Ross, said Santos had been informed Datwyler wouldn't be taking the position on Monday.
Ross said: "On Monday, we informed the Santos campaign that Mr. Datwyler would not be serving as treasurer.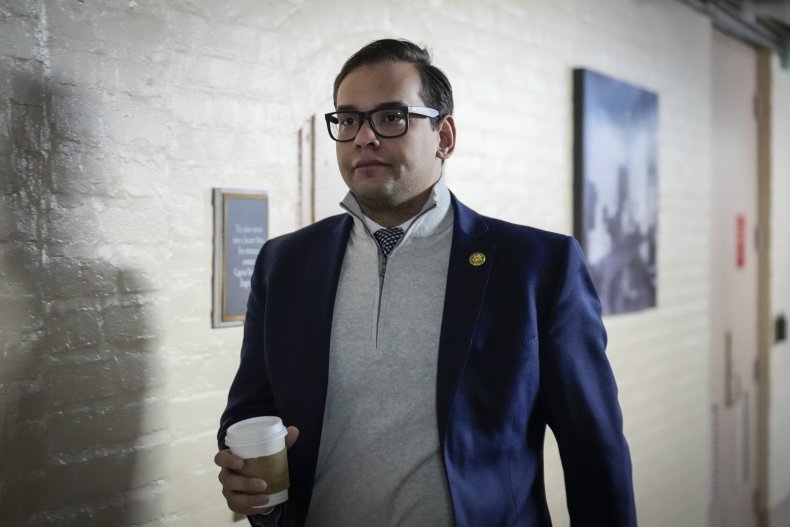 "It appears that there's been a disconnect between that conversation and the filings today, which we did not authorize."
Newsweek has contacted Santos asking him to explain the disparity. Datwyler has also been contacted to enquire whether he plans to take any action against the newly elected Republican.
Adav Noti, senior vice-president at the nonprofit Campaign Legal Center (CLC), which pushes for campaign finance laws to be enforced, told ABC News it would be illegal for Santos' campaign to have used Datwyler's signature without his permission.
He said: "It's completely illegal to sign somebody else's name on a federal filing without their consent. That is a big, big no-no."
Noti added: "I'm not at all surprised that they're changing treasurers given that the campaign has legal exposure and Nancy Marks (a former campaign treasurer for Santos) has legal exposure, and they're presumably all lawyering up.
"It would be very difficult for them to maintain a business relationship while they're all being investigated in a potentially adverse position."
Marc E. Elias, a lawyer who previously worked for a number of senior Democrats, urged past treasurers for Santos' campaign to "get lawyers."
He tweeted: "This isn't going to end well. I would suggest that all of the treasurers, potential treasurers, past and future treasurers, and alleged treasurers for Santos' campaigns get lawyers asap."
Earlier in January the CLC filed a complaint against Santos with the Federal Election Commission, accusing the New Yorker of "a tasting menu of campaign finance law violations."
Santos has been battling calls to resign, including from within his local Republican Party, after it emerged he had fabricated much of his resume, including information on his past education and employment, and incorrectly claimed his mother was in the World Trade Center on 9/11.
House Speaker Kevin McCarthy has refused to move against Santos, claiming he does "not have the power" as "his constituents voted for him."
However, McCarthy has said Santos will be removed from office if found to have "broken the law," making the claim he used Datwyler's signature without his consent potentially explosive.
In Santos' latest campaign finance filings, a box claiming a $500,000 loan to his campaign had come from "personal funds of the candidate" had been unticked, raising fresh questions about the money's origin.
Correction 1/27/23: This article was updated to correct the acronym for CLC (Campaign Legal Center).