George Santos' Republican Colleague Says He'll Be Gone Soon: 'Had Enough'
A House Republican has said he doesn't "see a scenario" where George Santos, the embattled GOP representative for New York's 3rd congressional district, is able to finish his term.
House representatives are elected for two-year terms, meaning Santos is next due to face the voters in November 2024.
However, speaking to CNN, Representative Marc Molinaro, who like Santos was first elected to Congress in 2022, said he doesn't expect his colleague to last that long.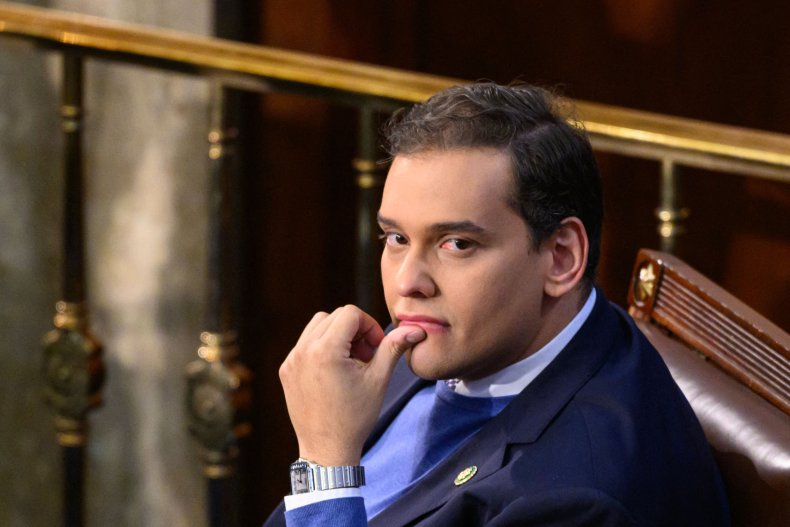 He said: "George Santos will not be on any ticket in 2024. I am very confident that, first, the investigations I think are going to produce truth, and that truth might come as a surprise to Congressman Santos, but not to anybody else.
"Leadership and constituents in his district on Long Island have had enough. I don't see a scenario where he runs for re-election, or quite frankly even completes his term."
Molinaro, the representative for New York's 19th congressional district, also told CNN he would be ready to expel Santos from the House, in a move that would require the support of two-thirds of House representatives to succeed.
Thus far Speaker Kevin McCarthy, the most senior House Republican, has refused to move against Santos, but told reporters last month that "we will remove him" if he's found to have broken the law.
If Santos is expelled from Congress it will trigger a competitive special election in New York, in a seat the Republicans flipped in 2022.
Santos is continuing to insist he will remain in post, on Tuesday tweeting: "Let me be very clear, I'm not leaving, I'm not hiding and I am NOT backing down.
"I will continue to work for #NY03 and no amount of Twitter trolling will stop me. I'm looking forward to getting what needs to be done, DONE!"
Newsweek has contacted Santos for comment.
After initially indicating he will stand down in 2024, Santos has begun suggesting he could run again, according to CNN.
The Federal Election Commission has asked Santos whether he plans to stand for re-election, and the congressman will have to make a formal announcement by March 14 if he does.
Controversy erupted around Santos in December after he was accused of lying about much of his backstory, including his education, employment history and claim to be the "grandson of Holocaust survivors."
In response the House Republican admitted to "embellishing my resume," but insisted he will not be standing down.
Santos has also been accused of sexual harassment by Derek Myers, who alleges the congressman groped him without consent whilst he was volunteering in his congressional office last month.
Myers said he had reported his allegation to both the United States Capitol Police and the House Ethics Committee.
Santos has said he "100 percent" denies the accusation, which he described as "comical."