An explosive device was reportedly left in a mailbox at the New York home of billionaire philanthropist George Soros, who was not there at the time.
According to The New York Times, a worker found the device at the Soros's Westchester home in Katonah. Police said they "proactively detonated" the unexploded device after they were called about a suspicious-looking package at around 3.45 p.m. on Monday.
"An employee of the residence opened the package, revealing what appeared to be an explosive device," the Bedford Police Department said in a statement.
"The employee placed the package in a wooded area and called the Bedford police. An extensive investigation commenced involving the Bedford Police Department, the Westchester County Police Department, the ATF and
FBI. This case has been turned over to The Joint Terrorism Task Force Division of the F.B.I."
"We are conducting an investigation at and around a residence in Bedford, New York. There is no threat to public safety, and we have no further comment at this time," tweeted the FBI's New York field office.
Soros, 88, a billionaire financier who has been a major funder of liberal and progressive causes through his Open Society Foundations, is often the target of attacks and unfounded conspiracy theories from the right, which is often anti-Semitic in nature (Soros is Jewish, and lived through the Holocaust as a child).
Citing the beneficiaries of his philanthropy as evidence, Soros's attackers claim he funds all liberal and left-wing groups and blame him for violence at protests, messages that Republicans have repeated with greater frequency in the lead-up to the midterms.
"Considering how the extreme right, then the mainstream right, have demonized Soros w/lies & conspiracy theories, something like this was almost inevitable. It could've been—& yet still could be—worse," tweeted Mark Pitcavage, senior research fellow at the Anti-Defamation League's Center on Extremism.
Recently, President Donald Trump's lawyer Rudy Giuliani retweeted a message calling Soros the "anti-Christ" and that his assets should be frozen.
Republican Representative Matt Gaetz suggested on Twitter that Soros had paid people to join the migrant caravan and "storm the U.S. border" in time for the midterm elections, a baseless conspiracy claim.
Even the president took aim at Soros, claiming that protesters against Brett Kavanaugh—including the sexual assault survivors who had come forward—had been "paid for by Soros."
A Republican attack ad for a Minnesota congressional race said the Democratic candidate and anti-Trump protesters were "owned" by Soros, playing on an old anti-Semitic trope of powerful Jews as puppet masters.
"The hateful rhetoric that dominates politics in the United States and so many countries around the world breeds extremism and violence," said a statement from Open Society Foundations sent to Newsweek.
"In this climate of fear, falsehoods, and rising authoritarianism, just voicing your views can draw death threats.
"Our founder and chair George Soros deplores violence of any kind and urges politicians across the political spectrum to tone down their rhetoric. Words have consequences, and we bear responsibility to create a more civil way to discuss our political differences.
"Respect for a diversity of opinions is fundamental to open society and that is the work that George Soros has devoted his life to. Our politics should be more about what we're for than whom we hate."
The GOP did not respond to a request for comment.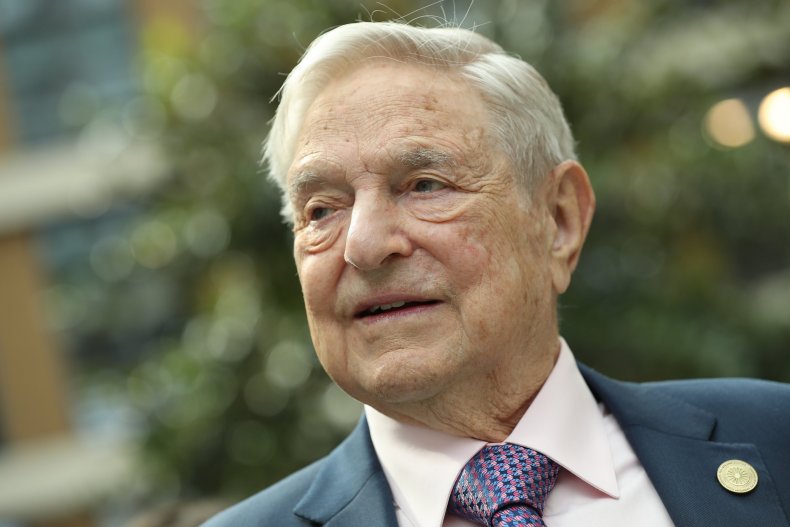 This article was updated to include statements by Bedford PD and Open Society Foundations.