George Soros Representative Says Fox News Won't Let Him on Air to Defend the Philanthropist Against Caravan Accusations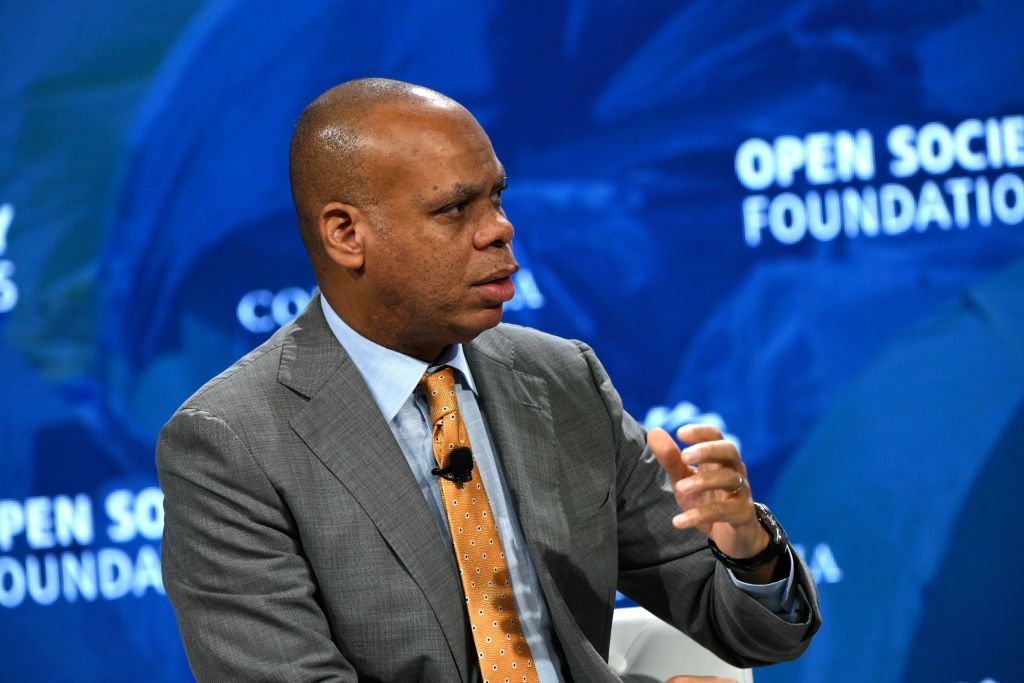 The president of billionaire philanthropist George Soros's Open Society Foundation said that Fox News had refused to let him on its network to rebut conspiracy theories that guests had circulated about his boss.
Patrick Gaspard, president of the pro-democracy group founded by Soros, told CNN's Brian Stelter Sunday that his multiple requests to appear on the network had been turned down.
"Fox News has had the opportunity to have us come on to rebut some of the more outrageous claims that are being made, and they refuse to have us on," said Gaspard.
Fox News has not responded to Newsweek's request for comment.
Soros, a Hungarian-Jewish Holocaust survivor, has long been a target of obsession of the European and U.S. far right over his backing for liberal causes, and he is often the target of anti-Semitic conspiracy theories circulated online.
In recent weeks, Soros became the focus of conspiracy theories circulated by President DonaldTrump and his followers, who have groundlessly alleged that Soros orchestrated protests against Brett Kavanaugh's confirmation to the Supreme Court, and sponsored a caravan of Central American migrants headed to the U.S.
Soros was recently targeted by a mail bomber, who sent explosive packages to several critics of President Donald Trump, which were intercepted by authorities.
The conspiracy theories have been repeated on Fox News, with the network drawing widespread criticism after it rebroadcast an edition of Lou Dobbs's Fox Business program in which Chris Farrell, the chairman of the right-wing pressure group Judicial Watch, claimed that Soros had backed the migrant caravan, only hours after a gunman killed 11 people in a Pittsburgh synagogue in the worst anti-Semitic attack in U.S. history.
The network subsequently condemned Farrell's comments, and said he would not be invited back on its programs.
Gaspard said, however, that the network had continued to host guests who had repeated the theory, including Representatives Matt Gaetz of Florida and Louis Gomert of Texas.
In an appearance on the network on October 19, Gaetz cited a Judicial Watch report on Soros and the migrant caravan, and on October 22 Gomert said on the network that "perhaps" Soros was funding the migrant caravan.
"There's been no opportunity for our foundation or for thoughtful Americans to come on and rebut," Gaspard said.
"To be clear, I'm not blaming them for violence," Gaspard said. "I'm blaming them for the toxic environment that we live in."
"I'm calling out Gohmert, and I'm calling out Gaetz, and I'm calling out the producers on Fox who are not creating space for thoughtful honest discussion," he said.
In an October statement, the Anti-Defamation League said that "politicians and pundits repeating...unsubstantiated conspiracies essentially validate the same hateful myths propagated by anti-Semites."