George Soros: Villain or Hero? Competing Movies Take Opposing Views
George Soros is one of the most important and generous philanthropists on the planet, fighting for four decades—and counting—to advance global equality. He's also a villain working to undermine America from within by advancing his goal of a globalist, mythical utopia where people are dependent on government handouts and follow the rules handed down by their betters.
These opposing views are what make Soros such a fascinating character—at least that's what filmmakers on both sides are hoping. Thus, beginning on Thanksgiving, two documentaries about the billionaire benefactor of the left and bogeyman of the right will be available to audiences seeking to reinforce their views, to challenge them or to simply understand what the controversy is all about.
The sympathetic film, simply titled Soros, opened in 15 theaters across the nation on November 20, while the unsympathetic movie, Billionaire Radical: George Soros and the Scheme to Remake America, launches Thursday at SalemNow, the streaming service owned by conservative talk-radio firm, Salem Media Group.
While there's a bit of overlap—video of Fox News star Tucker Carlson, for example, appears in both movies, as does video of Black Lives Matter protests—the differences are so strikingly stark that one wonders if they're profiling the same person.
One glaring example is how they deal with his association with Nazis as a Jewish teenager, when his father disguised him as a Christian and arranged for him to live with an official with the minister of agriculture.
The Soros movie shows tweets from prominent people like conservative author and filmmaker Dinesh D'Souza and actor James Woods accusing him of collaborating with Nazis. Roseanne Barr tweeted that he "turned in his fellow Jews 2 be murdered in German concentration camps" while author Ann Coulter tweeted that he "identified Jews to the Nazis." But an expert in Soros calls such assertions "completely untrue and false and shameful."
Soros himself describes the Holocaust as visiting his country, Hungary, "in a particularly virulent way" with "400,000 people killed in a matter of a few weeks." And a journalist describes how, at age 13, Soros was taken by the Nazi official he lived with to "view estates that Jews left ... He spent several days there, hoping people wouldn't realize he's a Jew."
Ironically, there is much more about Nazis in Soros than there is in Billionaire Radical, though one thing missing from the former and played up large in the latter is a 60 Minutes interview where he is asked point blank if it was difficult for him to help "in the confiscation of property from the Jews."
"Not at all. Not at all," Soros responds. "Maybe as a child you don't see the connection. But it created no problem at all."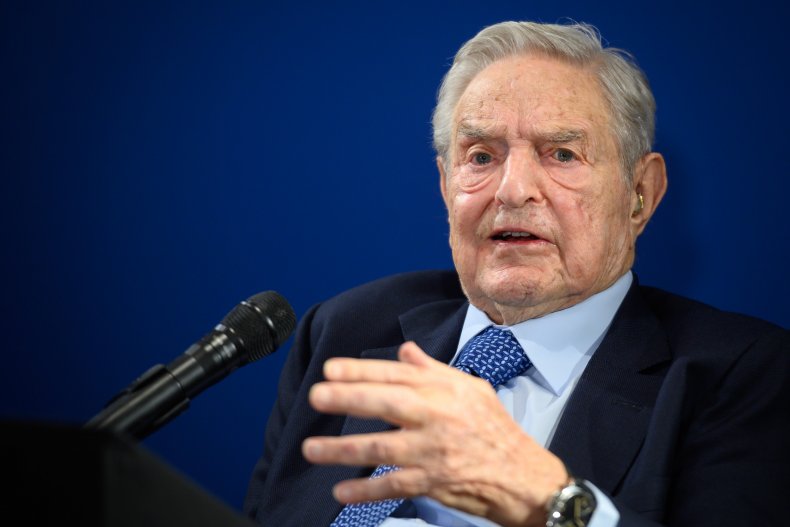 Afterwards, David Horowitz, a former communist who is now a conservative author and activist, claims Soros "wants to destroy two of the freest societies on the face of the earth: one is the United States, the other is Israel," and a giant chart is rolled out naming all the left-wing organizations he finances, such as Freedom From Religion, Southern Poverty Law Center, Transgender Europe, Planned Parenthood, Muslim Advocates and even some left-wing evangelical groups.
Soros, directed by Jesse Dylan, also includes a list of organizations the subject of the film supports—a list about 30 feet long, rolled out by Glenn Beck on one of his TV shows.
"This is just half of them. But, other than that, there's nothing to see here!" Beck says.
In a statement at the film's website, Dylan said he has known Soros for eight years. While he doesn't divulge the source of funding for the film, the access he had to its subject is obvious throughout, including original interviews with Soros and his children and personal photos from as far back as World War II. Archival footage includes interviews of famed Nazis Joseph Goebbels and Albert Speer.
Billionaire Radical, on the other hand, is a self-funded production from D. James Kennedy Ministries, and it focuses a lot on Soros allegedly striving to undermine the family structure in order to destroy wealth (except his own), and to promote atheism and large government programs. The groups he funds do not allow for dissent and mock old-fashioned values, such as the notion that men and women are different and determined by biology, according to the movie.
"Though making billions as a predatory capitalist, he has worked feverishly to bring socialism to the United States," the ministry's CEO Frank Wright says of Soros in Billionaire Radical. "As a professed atheist, George Soros has also been on the vanguard of undermining the moral foundations of America."
Well, that's one opinion, though Soros director Dylan has another: "George is one of the biggest actors for good the world has ever known," he says in his statement.
Neither Wright or Dylan were available for comment.